Brief Background: Our team at 3200 Creative has been designing and developing websites for clients since 2001 and developing professional websites in WordPress since 2006. In 2010 we noticed the benefit of using The Genesis Framework for WordPress and focused our efforts towards specializing in full-scale Genesis Framework design and development. As of 2018, we've had the pleasure of working very personally on over 300 Genesis Framework projects (200+ hosted on WP Engine!)
What Type of Word Do We Do?: At 3200 Creative, we work in a non-vertical nature, meaning our clients range tremendously in size, focus, and needs. With the experience we've acquired over the past 17 years, we are capable of reaching the desired result of each project from a specific and optimized perspective. This has allowed our clients to gain additional insight as well as see significant results directly from our work. Optionally we also offer ongoing support to nurture the growth of our clients continually. Some of our oldest support accounts exceed ten years.
Client List: While we have worked with enterprise-level clients, including Berkshire Hathaway, Pearson, NBC, The Grand Canyon, Reebok, and Will Smith. We are also incredibly proud of the results generated through the work we've completed for smaller businesses as well. These include Groove Life, Yummy Toddler Food, Dwell Arizona, Practical-Golf, Rainbow Treecare, My Korean Kitchen, JS Dental Lab, and many more
Featured portfolio items.
DwellArizona.com
Website: DwellArizona.com
Project Details: - Redesign built on the Genesis Framework and hosted on WP Engine - Services included design, development, online business consulting, and ongoing support
Project Highlights: - Ranks 1st/32MM for Arizona Historic Homes - Ranks 3rd/58MM for Arizona Modern Homes - Full IDX integration and multiple custom post types to accommodate third-party services - Custom Genesis Child Theme built specifically to perform well in real estate - Fully mobile responsive website - Redesign improved conversion and traffic dramatically
Client Testimonial: "3200 Creative went above and beyond my expectations with my new website. I had a pretty ambitious rebuild in mind, and they helped bring that to reality, all while being very attentive to my vision for the site and making creative suggestions to improve the overall site user experience. This has had an immediate impact on my site traffic and user engagement with lead registrations and contact requests far exceeding what my old site was producing. Communication with 3200 Creative was easy, organized, and very responsive. I couldn't be happier with the end result."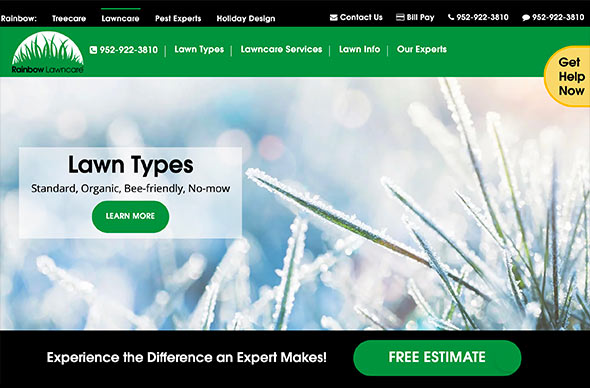 Rainbow Treecare, Pest, Lawn, Lights
Project Details: - Redesign and development of 5 independent websites - Online business consulting and ongoing website support Project
Highlights: - 50% conversion increase after redesign and redevelopment - Development method allows for multiple sites to utilize same developmental resources without the need for a multisite - Full mobile optimization - Custom LiveChat integration
Client Testimonial: We already had a successful series of websites for our different company divisions, but they were starting to look dated, and were not fully optimized for mobile. After extensive research, we selected 3200 Creative to help take us to the next level, and they have more than delivered. We now have websites that look great and up-to-date, are easier to navigate, AND experiencing a 50%+ increase in conversions! (year over year with a similar amount of traffic - that really is 50, not 5!) Ryan and his team have been great to work with, and we look forward to our continued partnership. - John Hillis, Director of Digital Communications, Rainbow Treecare
YummyToddlerFoods.com
Site: YummyToodlerFood.com Project Details:
- Fully automated migration from Squarespace to WordPress - Website rebuild on Genesis Framework child theme - Full hosting setup on WP Engine Project
Highlights:
- Custom automated migration process from SS to WP allowed for strengthening of the website and optimization - The project includes multiple features focused on custom advertising placement and affiliate product placement - Currently 1st out of 1 billion for the Google search term "Toddler Food" - The project has recently been cloned to a secondary project "Yummy Family Food"
Client Testimonial:
3200 Creative did such a fantastic job transferring my site (and over 400 posts) from Squarespace to WordPress, even though it was a huge logistical challenge that required custom code and creative problem-solving. (In just the first week of relaunching the site, my traffic was up 30%.) They set me up with a place that will serve my brand for years, and I feel so much better with such a solid foundation to power my growth. They are endlessly supportive and available for questions (and I've had many!) and I love knowing that they will help me expand and grow in years to come.