Callia Web specialises in Genesis powered websites for individuals and small businesses in the United Kingdom. From website workshops where we build your website with you, through to bespoke design and development, we'll work to develop a website that connects your brand and vision with your target audience.
Featured portfolio items.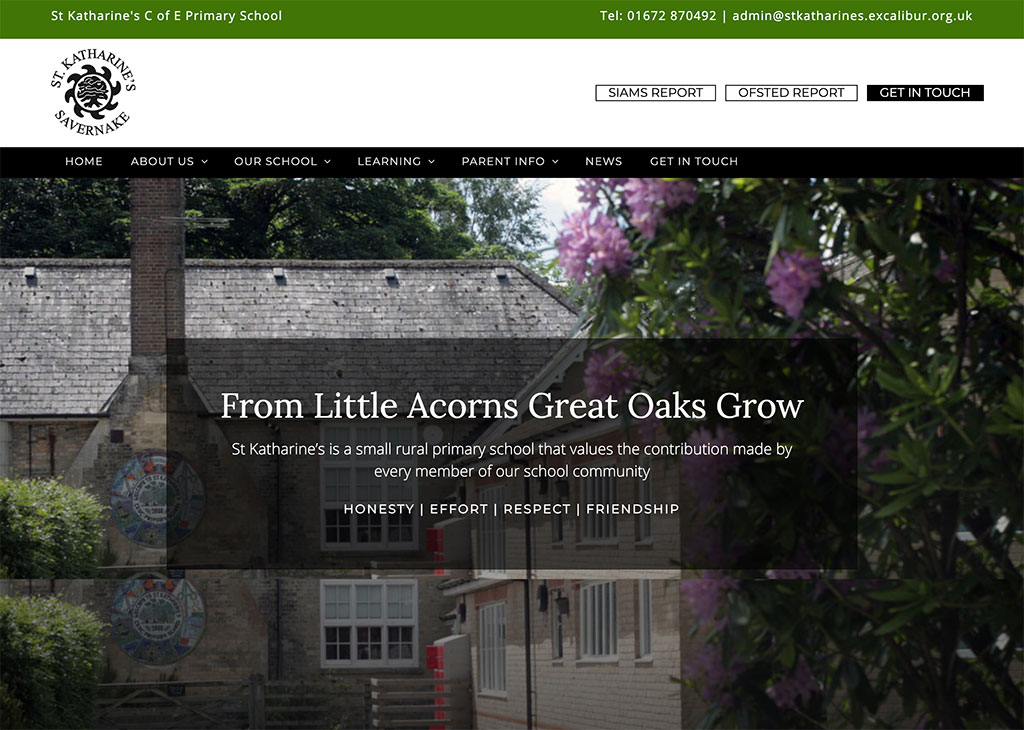 St Katharine's Primary School
St Katharine's C of E Primary school, based in the idyllic setting of Savernake Forest, were in need a new website as their old one was not mobile responsive, difficult to update, hard to navigate, and very outdated in appearance.
We started the design process by analysing who the website audiences were, and what information they would be visiting the website for. From this, we identified that the website needed to act as a brochure for prospective parents, provide information and resources to existing parents of the school, and make important policies and documents available for Ofsted inspectors.
With clear objectives set on the purpose of the website we created a new and improved website structure so that information would be organised to improve user journeys and make it easier to find.
Using the WordPress Block Editor we designed a 'template framework' solution that would also work for other school websites with some simple customisations. We then added some new features to help support the needs of existing parents, one of which was a simple events calendar/planner of key dates - which also conveniently prints a monthly grid view for busy parents to pop on their fridge!
A local parent of the school kindly donated her time and expertise to provide the photography for the website, and we worked with her to get the high-quality images required to give the website it's finesse whilst overcoming the challenges of retaining the anonymity of the children within the school.
The final result is a clean, professional, and responsive website that ticks the Ofsted compliance box.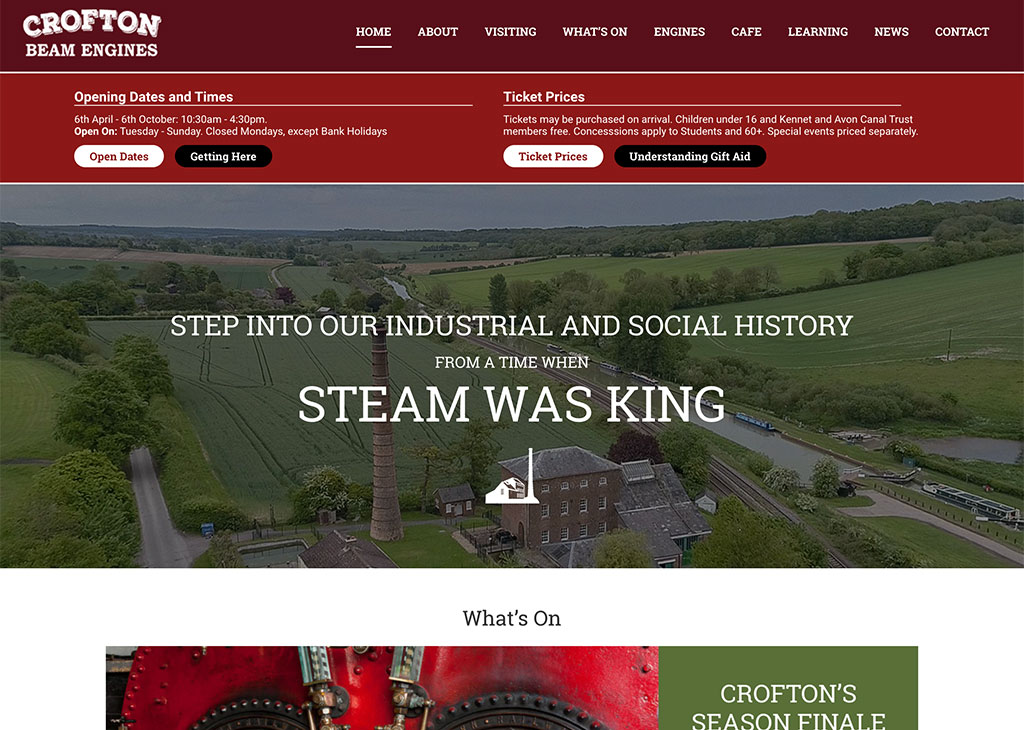 Crofton Beam Engines
Crofton Beam Engines, a Grade 1 listed industrial heritage attraction on the Kennet and Avon canal, had secured funding for a new website as part of a grant application to attract new visitors and improve sustainability.
Callia Web made use of extensive customer profiling to better understand the client's potential audience, who are drawn mostly from education and tourism. We worked closely with the Kennet and Avon Canal trustees to design a website that would enhance the visitor experience with easy access to information, in particular, opening times and prices. It was equally critical to ensure that current and future events could be promoted on the website to help drive visitors to the attraction. Crofton Beam Engines also wanted to showcase their extensive heritage information and resources with a high-impact design, in keeping with their overall brand look-and-feel.
The WordPress block editor was used to provide a clean, contemporary, responsive, and SEO optimised website. The navigation was simplified to enable clear labelling and sign-posting to the different sections and information within the website. We designed the website using their brand colours of red and green (the colours of the beam engines themselves) with a vintage look-and-feel we felt was consistent with their heritage. Callia Web thoroughly enjoyed working on a project that we value highly within our local community, enabling Crofton Beam Engines and it's volunteers to continue their hard work promoting their attraction to new and existing visitors.
Forever Hounds Trust
The rescue and rehoming dog charity, Forever Hounds Trust, approached Callia Web for a redesign of their website as their existing one had become increasingly difficult to update and was struggling to scale-up with the increased amount of content and products in the shop.
Working with key members of the team at Forever Hounds Trust we designed a website that would enable them to promote their dogs for rehoming, share success stories, sell merchandise, advertise regional events, and showcase the mission and campaigning that the charity undertake.
Callia Web created custom-post-types for the dogs and events to separate the content from the blog, news and events making it easier to add and update by charity volunteers. We used a combination of the WordPress block editor and advanced custom fields to create easy-to-edit blocks with a high visual impact. The shop was redesigned and restructured to improve visual impact and customer usability. During the design process, we identified the need to add more emphasis on the various call-to-actions needed to support the charity including donation, fundraising, volunteering, and rehoming dogs.
We worked with the Forever Hounds Trust brand guidelines to create a web-accessible colour-palette and clean responsive design. Callia Web are proud that this project has been noticed in a StudioPress blog post with some positive feedback from professionals within the community.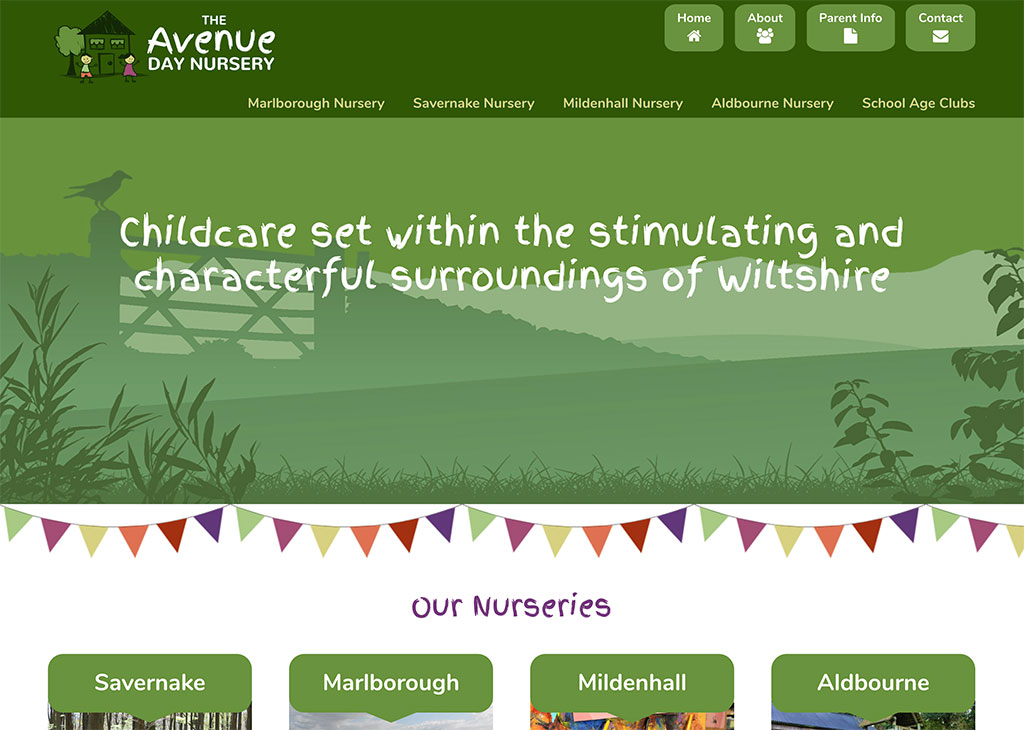 The Avenue Nursery
The Avenue had been left with a static website that was broken and out of date and that they were unable to update and maintain. Amber and Emma wanted a fresh start with a new WordPress website from a local web agency they felt they could trust.
As Leeann's three children had attended the nursery over the past 10 years, this was project close to our hearts. It also gave us a helpful insight into what a prospective's parent would want to know about the nursery prior to arranging a viewing. With a good understanding of how the business works, we could analyse the content and navigation on the existing website, and then restructure it into a more logical format. This process also enabled us to showcase other services the nursery were offering that had previously been unpublished, like the school age clubs.
The stunning location set within the forest and countryside were the inspiration behind the design, and we were keen to keep the look-and-feel gender neutral, but with a playful use of complementary colours. We had the logo refreshed and updated to give it a contemporary feel in-keeping with their new website.
We built a custom theme and used Advanced Custom Fields with additional page templates so that Amber and Emma could quickly and easily update pages as we were aware our clients were nervous about using unfamiliar technology.
Finally we spent some time editing and resizing dozens of photographs of children playing in the three different nursery settings, which really pulled the website together to give it a fun and polished finish.