Classic City Consulting has been working with business large and small on their marketing and eCommerce websites for over a decade. With a team of diverse designers, developers, and content writers from all different backgrounds, we know what it takes to make your website an engaging destination for new customers. We are a remote team from PT to ET who enjoys buying a great website experience for your customers and loves partnering with our clients for long term success. We don't just want you to "be online" we want you to have an online presence.
Featured portfolio items.
Mid-sized Project Management Training Company
Velociteach is powered by online sales and they need a development partner who will keep them moving forward as their business grows. They came to us with a design to boost their product sales page, we just needed to build the features and functionality to match.
eCommerce Website that Grows
Slab Dream Lab needed a eCommerce website that was easy to maintain, flexible, and with the ability to grow with their business. The website that they had was out of date and they were no longer able to update the products or content efficiently. By moving their website onto WordPress, we are able to resolve two of their major pain points: updating marketing content and on-site sales. WooCommerce allows them to showcase and sell their 100+ products on the site with automation to take care of the backend so that they can just run the business.
Non-Profit Organization that Needed a Website Rebrand
10KFAM was a growing organization and needed a website overhaul to launch their rebrand that also worked in conjunction with their CRM, Kindful. We worked to build a website that not only creates a pleasant end-user experience, but an equally pleasant backend-user experience.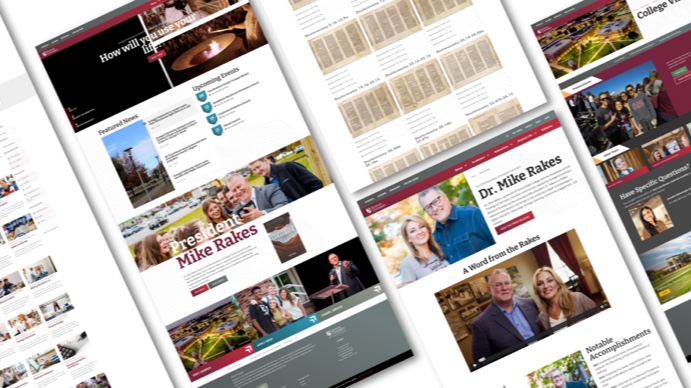 University Needing Website and Strategy Support
Evangel was looking for a long-term partner who could help them to strategically use their website. The university is growing, and their website is where potential students and current students both go for information. We work with them to make sure that the user experience is seamless.