We're a left-brain, right-brain duo delivering custom website design and digital marketing strategy.
Drio was founded on the principle of real people helping real businesses, not only show up, but stand out, online. We have always believed that when your business shows up authentically, people will resonate with that. Our ability to dig deeper and uncover the heartbeat of an organization has and will continue to be our secret sauce. We form long-term relationships with our customers, so collaboration and communication are at the heart of who we are. We believe that when we work with other people and organizations who value what we value, that's what makes us successful and makes a great partnership.
Featured portfolio items.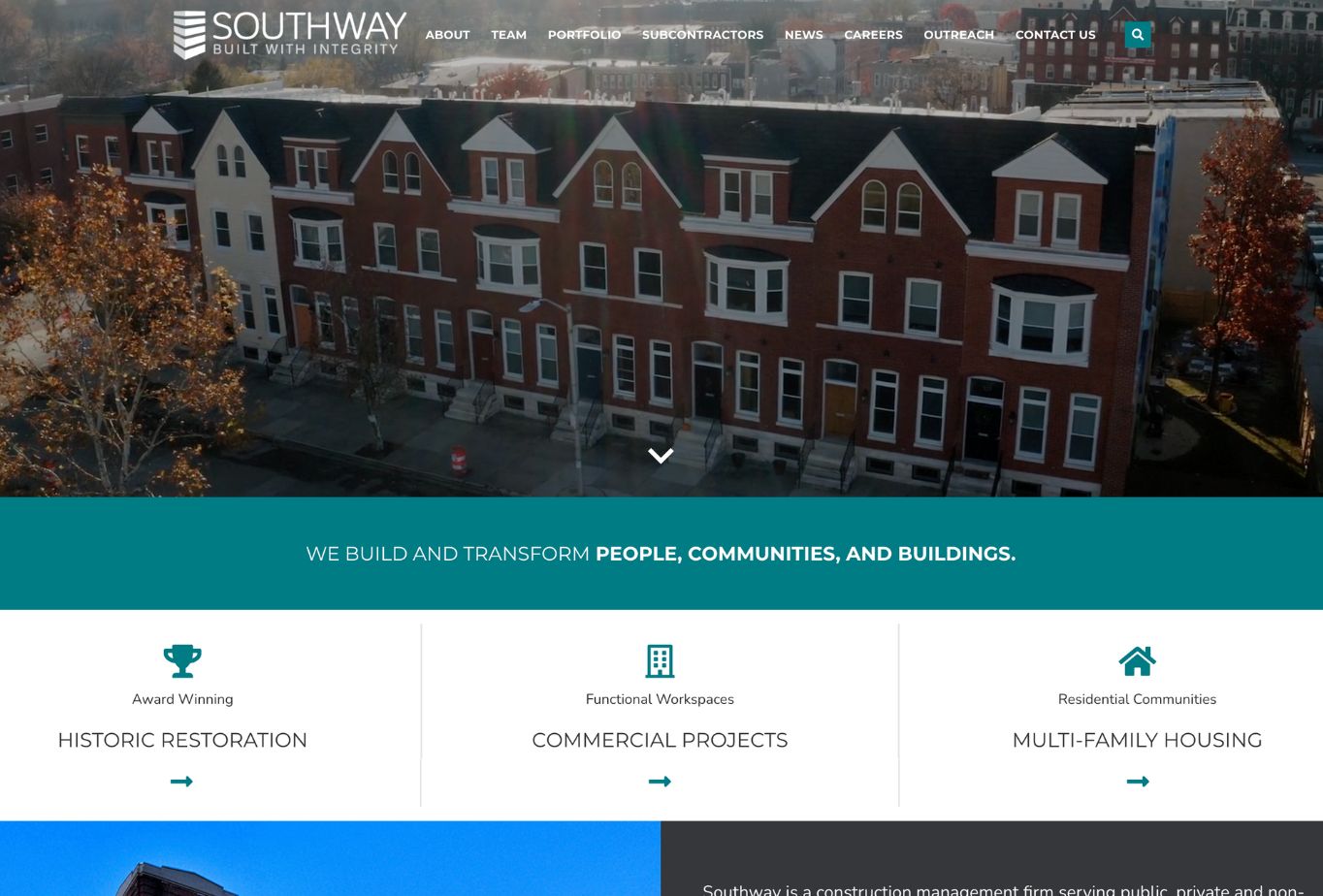 Southway Builders
We collaborated closely with Southway Builders to establish a more concise information architecture and create a brand narrative that elevates Southway's impressive portfolio and differentiates them in the competitive marketplace. Clear-cut navigation allows potential clients and subcontractors to quickly and easily get where they need to go.
The WordPress interface allows the marketing team at Southway to continue to update, refine and add to their website as they complete new projects and hire more team members.
Users are greeted with a video and beautiful imagery that showcases Southway Builders' work in the community. We chose an easy-to-navigate interface and carried over their existing color palette to maintain consistent branding, but broke it up with more white space for a more refined experience.
The goal of the website redesign was to showcase the wide array of work that Southway does in the Baltimore Community. It was intentionally built to allow for growth online as their physical team and space was growing as well.
Features: -Full Website Redesign -Custom created Portfolio page with filters and map view
Read more: https://drioduo.com/portfolio-items/southway-builders/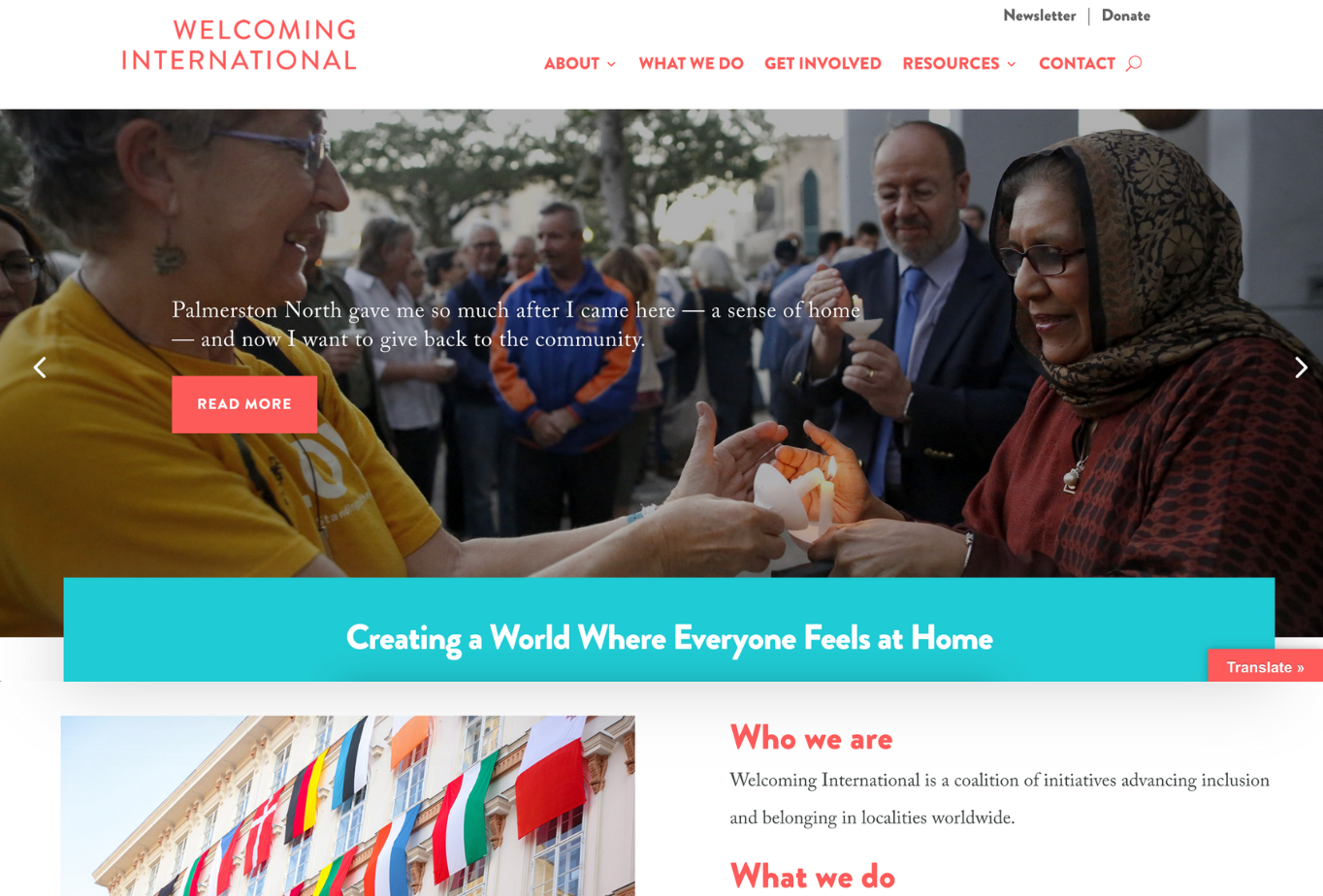 Welcoming International
Our client was looking for a brand new website, a dedicated digital space, for Welcoming International. They challenged us to develop a site that highlighted the unique impact of inclusive policies and programs in countries around the world and showcased how everyone could get involved.
What we did:
1) Integrated an interactive map that utilizes location pins to highlight the various countries that WI works in. Once a user clicks on a location pin the country page opens up with more specific information.
2) Added calls to action throughout the site. On the homepage, for example, we have several CTA buttons to encourage users to get involved.
3) Developed a comprehensive online resource library.
Our new design focused on creating a site experience that's intuitive and easy to navigate. We wanted current and potential supporters to quickly understand the ultimate value that WI provides and all the different ways to get involved. The result is a new website that shares their mission and inspires action!
Read More: https://drioduo.com/portfolio-items/welcoming-international/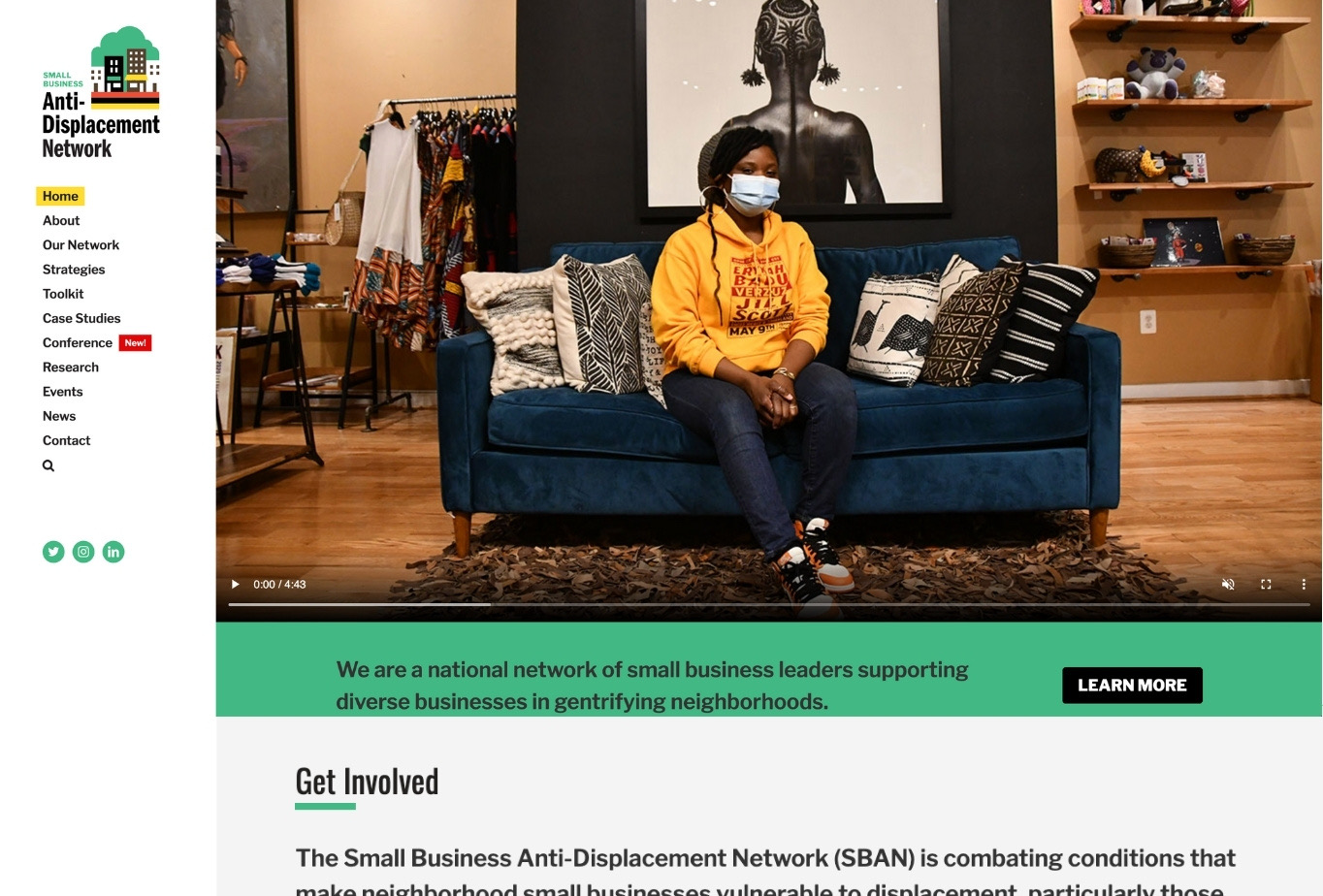 Anti Displacement Network
Drio developed a custom website & email template for the Small Business Anti-displacement Network (SBAN), a national network of small business leaders supporting diverse businesses in gentrifying neighborhoods.
The University of Maryland's National Center for Smart Growth (NCSG) connected with Drio to build a new WordPress website for SBAN. The organization is combating the conditions that make small businesses in gentrifying neighborhoods vulnerable to displacement. The website needed to support the growth of this new initiative with a place to share resources & tools pertaining to the end user's specific challenges, and for users to learn about upcoming events and/or get involved.
Features:
-Full Website Redesign -Interactive Toolkit -Custom Newsletter Template
The new design incorporates a custom design and an intuitive backend that allows the client's team to continue to grow with the toolkit library that we started for them.
The result was a new website with an interactive toolkit that helps users locate the resources based on their particular needs.
Read more: https://drioduo.com/portfolio-items/anti-displacement-network/
Wayforth
Drio began working with Wayforth in 2019, after they acquired our previous client, Let's Move, LLC that was based in Maryland. In 2019 we worked with them to develop their brand voice and incorporate this messaging into a new website. We have continued to be involved in their Digital Marketing efforts and in 2022 they were looking to redesign their website again.
Wayforth has been a fast-growing company that is continuing to offer their services to new markets around the country. They are based in Richmond, VA and are quickly making a name for themselves in the move management industry. As they have grown, so have their website & marketing needs.
With the 2022 website design, WayForth was looking to elevate awareness around their service offerings as well as the markets that they serve and the company culture.
Features:
- Website refresh (Drio built iteration #1 in 2020) - Event Registration - Pre-designed page blocks that allow the client to build new pages - Location filtering on service areas - Search Engine Optimization (SEO)
Read More: https://drioduo.com/portfolio-items/wayforth/