FireCask is an award-winning Web Development, Digital Marketing & SEO, and NFT Marketing Agency in Manchester. Over the years, FireCask has grown into a team of like-minded technical and creative experts. We see and do things differently around here and it's our unique way of thinking that our clients love.
WEBSITE DESIGN AND DEVELOPMENT - Offering years of industry knowledge and expert skills, FireCask is one of Europe's leading WordPress development agencies. Our specialist web development team can build anything from bespoke website builds to custom themes. We are also able to create unique website designs for a range of clients that engage with audiences, increase profits and stand out from the crowd. Whether it's a user-friendly website or an immediately recognisable visual identity, we ensure it appeals to customers on their level.
SEO AND DIGITAL MARKETING - FireCask develops bespoke digital marketing strategies with key business goals in mind and our campaigns stretch across content marketing, email marketing, paid media, digital PR and social media management, to name a few. We can also plan and implement a bespoke SEO strategy for your brand to ensure you're getting noticed in search engine results.
NFT MARKETING - Our marketing specialists have a vast knowledge of the NFT and crypto art space. We can help you deliver a variety of unique and creative NFTs to the masses. As a full-service digital marketing agency, we can not only help you promote your NFTs but also bring together our organic marketing services with other areas that we specialise in.
Featured portfolio items.
WhatTyre/Tyrepress
FireCask were given the brief to create a tyre comparison website using WordPress, that contained data from multiple sources (APIs/CSVs etc), with the additional requirement that the data should be accessible to selected partners as a REST API. This resulted in two separate websites being created, a front end website using WordPress (WhatTyre) and a backend website using Laravel (TyrePedia).
WhatTyre is a custom WordPress site, fully stripped back and based around a custom plugin built to interact with the TyrePedia API.
TyrePress is a fully formed CMS that allows for importing of various feeds, editing of data, user/group management and other features. With over 10,000 different products and 50,000 product variations, FireCask were able to implement all of this into a highly secure and optimised wordpress site.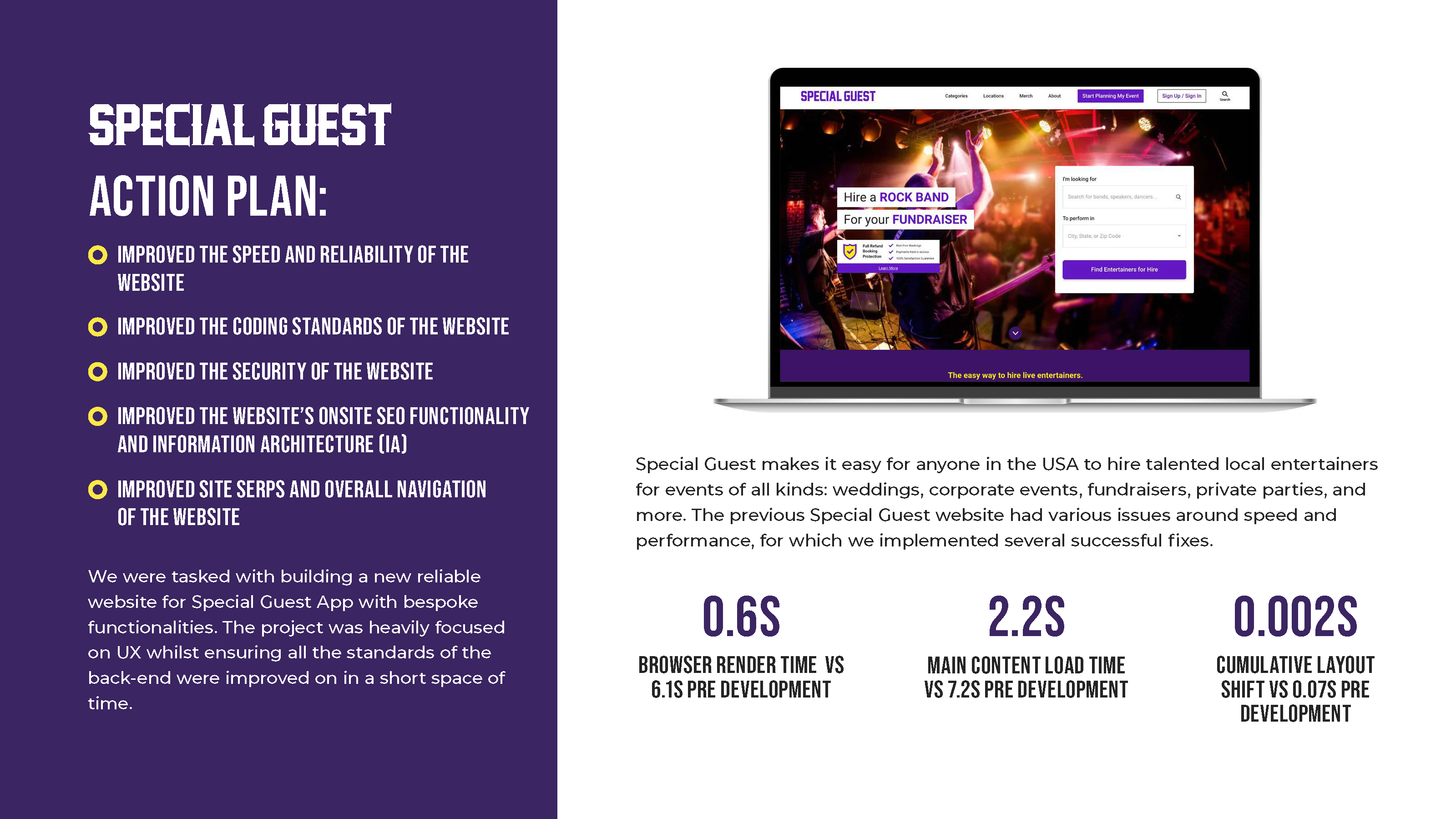 Special Guest
We were tasked with designing and building a new reliable website for Special Guest App with bespoke functionalities. Special Guest makes it easy for anyone in the USA to hire talented local entertainers for events of all kinds: weddings, corporate events, fundraisers, private parties, and more.
At FireCask, we were able to improve the speed and reliability of the website, as well as the coding standards of the site. We also improved the security of the website and the onsite SEO functionality, SERPs and Information Architecture, whilst creating a new design with UX/UI accessibility principles in mind.
This resulted in the browser render time achieving a 0.6 second speed post launch vs 6.1 seconds on the previous site. As well as the main content load time going from 7.2 second pre development to 2.2 seconds. The project was heavily focused on UX and UI whilst ensuring all the standards of the back-end were improved on in such a short time.
Ready Steady Cut
With the aim to increase their visibility, build brand awareness and attract new audiences to the website, we have worked hard at improving the Ready Steady Cut brand. From design to development of their new website, as well as a successful SEO & Content Marketing, our strategy has helped them reach record number of visits month on month.
This has resulted in a 97% uplift in online visibility as well a 127% increase in organic traffic. With over 74 performance enhancements Ready Steady Cut have been able to take advantage of our full service offering.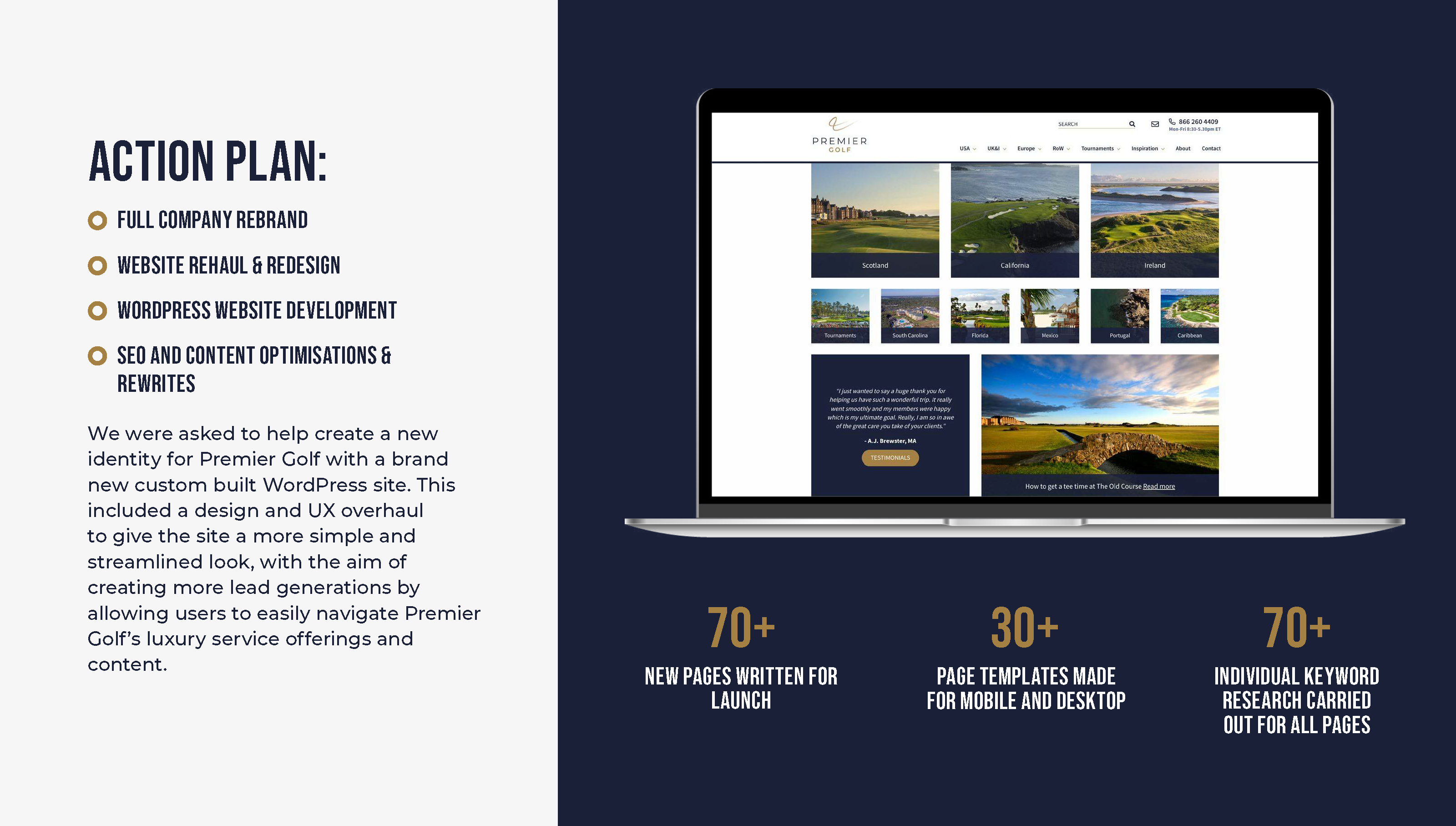 Premier Golf
We were tasked with creating a new identity for Premier Golf, with a brand new custom built WordPress site. This included a design and UX overhaul to give the site a more simple and streamlined look, with the aim of creating more lead generations by allowing users to easily navigate Premier Golf's luxury service offerings and content.
We also wrote 70+ pages of content for launch as well as designing and developing over 35 templates for mobile and desktop.