Your concept matters, and it's our mission to help you realise it. Over the years, organisations big and small like Cathay Pacific, Sealy, and WeLend have trusted us to bring the best design and development solution to life.
Together with you, our diverse team of curious folks will go beyond the brief to understand your situation, ask the right questions, and deliver experiences tailored to your demographics.
Featured portfolio items.
Silverhorn Investment Advisors rebranding and site expansion
"Grayscale built two websites for us and revamped our offline marketing materials. Where they excel is in how they engage with you—getting to understand your brand and unique needs, then going the extra mile to execute on their promises." Carson Au, Marketing Associate As Silverhorn's digital partner, Grayscale has not only helped with the development of their corporate and product websites over the years, but also with general branding and a range of printed collateral and digital presentation materials. We first got to know Silverhorn in late 2018, working to give their online presence a long-overdue makeover. Since then, we've continued to work closely with the team on internal and external projects of all sizes. The design system that we created to govern the Silverhorn site allows the team to easily update their public-facing staff roster, as well as information on invested companies. Particular challenges we overcame include accounting for the requirement that users identify the type of investor they are prior to entering the site, as well as coming up with 2D and 3D graphics to represent abstract investing concepts. More recently, when an investment opportunity into ethical lending companies matured enough to merit its own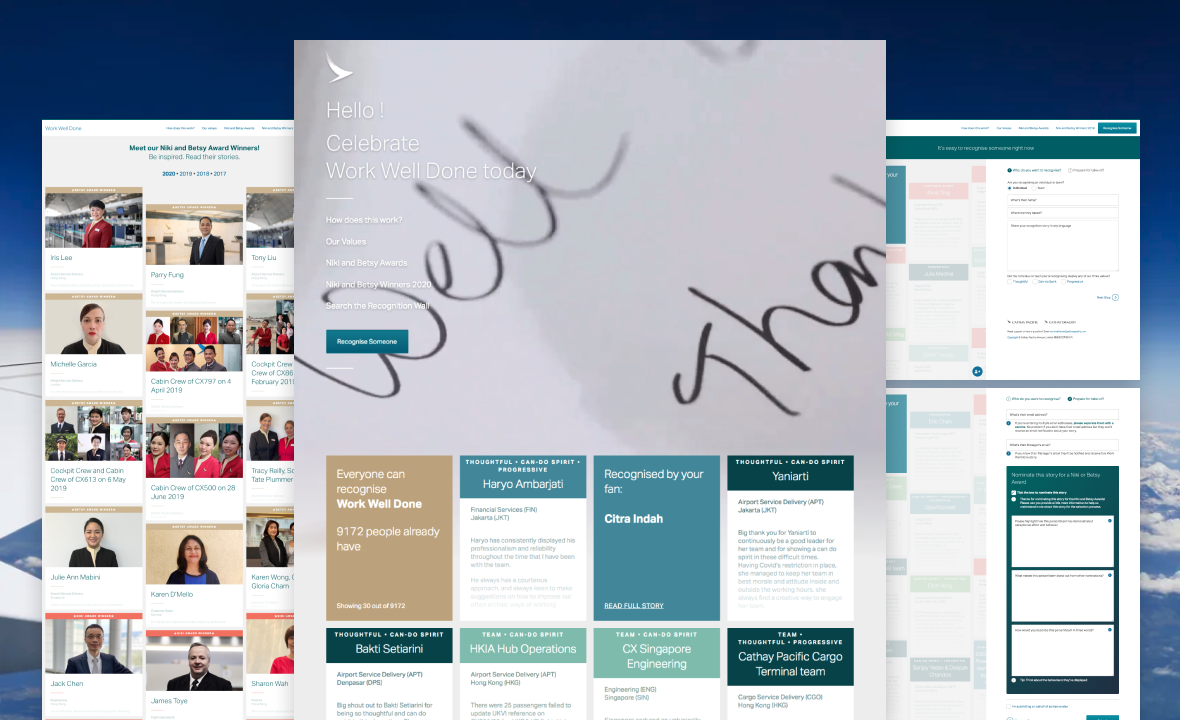 A driver for positive change amongst Cathay staff
Cathay Pacific's People team was looking for a way to rethink and reimagine their employee recognition programme. "Employee of the year" awards had become outdated and ineffective—so they turned to Grayscale and communications agency e3 to bring in fresh ideas. We designed a portal to make recognising good work really easy, and to encourage employees to actively create and share their stories. The portal is built on WordPress, making management of the tool by the Cathay project team very easy. In the 5 years the project has been online… - 8,500+ compliments have been shared - 2 awards ceremonies have been organised - 114 staff/teams have been awarded Since the start of the project in 2016, we have taken staff feedback into account in order to make the platform more interactive. Features such as, "like", "nominate", "CC their manager", and "vote" have been added, while keeping the core function of "nominate" central in the design. "This is simply one of the most successful internal projects we have ever done." Jared King, founder of e3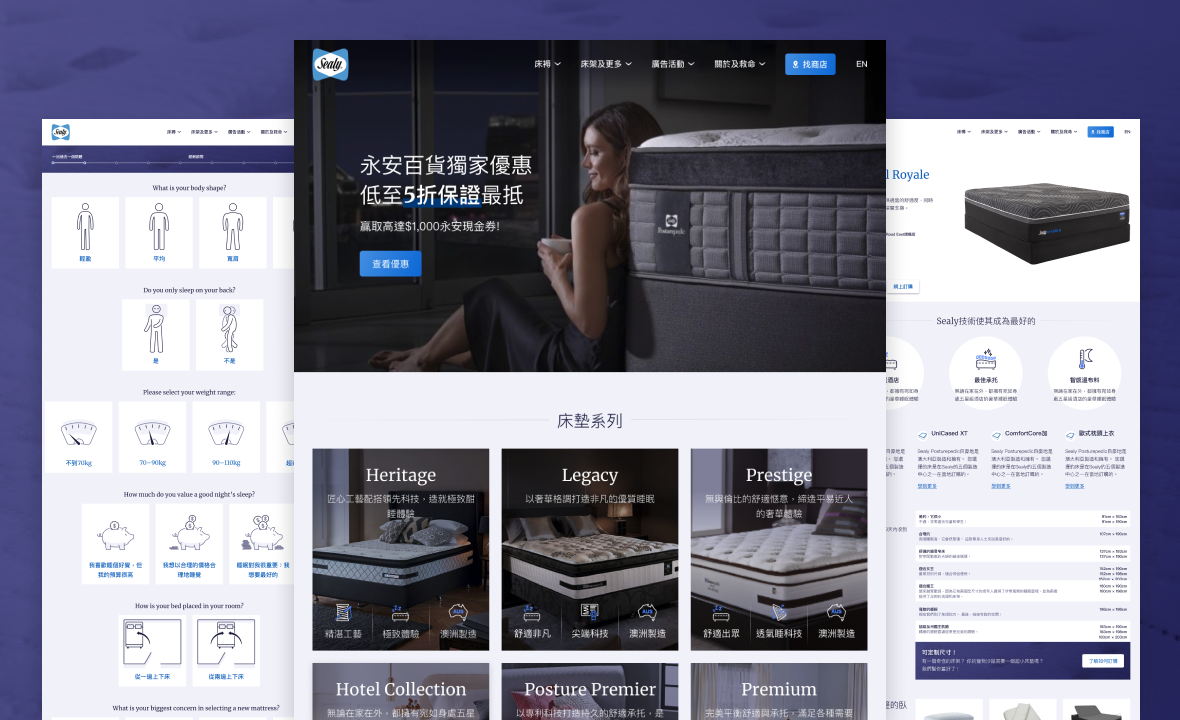 Site redesign and custom-coded questionnaire for Sealy Hong Kong
With an outdated site and a struggling SEO position, Sealy was having a hard time maintaining their dominance in the luxury bedroom fixtures market. They needed a new and professional web presence to showcase their product lines and direct customers to their flagship stores across Hong Kong. As a base, Grayscale proposed a custom designed and developed solution in English and Chinese. Once we identified the core goal of the site, namely to convert website visitors into in-store visitors, we worked with the project team on a few non-standard site features. These included a custom-illustrated mattress selector quiz and a store locator guiding visitors to book a tour at a Sealy flagship store. We have been working with Sealy since January 2019, launching in October of that year and since then providing support and site maintenance when necessary.
A family of sites for Lanson Place's boutique hotels & apartments
Lanson Place is a Hong Kong-based hospitality group expanding their presence across the Asia-Pacific region. With this growing portfolio came the need for an updated online presence. For this task, they enlisted Grayscale to redesign and redevelop not only their corporate site, but also sites for each of their 11 properties. At every stage of the project, Grayscale worked closely with Lanson's internal staff and external brand and digital marketing agencies Eight and MWI. Combining updated brand guidelines with research we conducted in-person and over-the-phone with property staff and residents, Grayscale produced a cohesive design system to govern both the corporate and property sites. We developed the suite of sites on WordPress, integrating Lanson's online booking system and a review aggregator, as well as other complex features such as a custom points-of-interest map, over the course of 6 months. To help Lanson Place transition the designs of their property sites, we created temporary pages holding the most important information for each of the properties, meant to live alongside the old designs until each full property site was ready to launch.