HikeBranding offers a one-stop solution for all your web development needs and host a team of dedicated web developers who have several years' worth of experience, in designing professional websites, under their belt.
We work in close collaboration with our clients to establish an effective transparent channel of communication that allows free sharing of ideas and design philosophies. Our work goes way beyond web development. We help you in creating a brand value for your company/product/service
Featured portfolio items.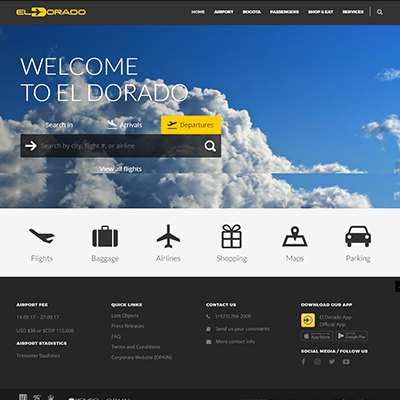 El Dorado Airport
A WordPress Website project with real time data processing feature. This client wanted a WordPress Website which could showcase a real time flight schedule. The client was very much clear with the requirement and provided the PSD for the same. However, making WordPress website from PSD was an easy task, but the functionalities that client wanted in the website, was a real challenging task.
Our team was very organized and they took on the challenge of developing the website from the scratch. We managed to design and develop the website following the requirement of client and getting on the real time data processing feature on their website.
The result of the efforts was a great, unique website above the expectation of the client. Overall the client was very much satisfied with output of the same.
Yerba Buena Gardens Festival
This client of ours wanted us to develop an Event Website for them, such that all the event information is available on the website. They shared their detailed requirement with us, and we were very quick in ensuring the best results to them. As per client's requirement, we decided to design and develop this website with genesis theme.
As per client's need, Admin in this website can manage all the information from the backend. Admin can update, delete or add event. Also can manage visitors and customers from back end. Also as per their request, they needed to showcase all the information related to visitor, so that visitor don't find any difficulties and manage themselves properly. Apart from that, their list of functionalities included a Calendar section split into sub-categories, useful content covering aspects any visitor to a city would seek and an opt-in Donation page and other features which provided excellent user experience to the user.
We worked with the client according to their brand guidelines to create an eye-catchy and responsive website as per their need. Client was happy with the end product giving in some excellent feedback.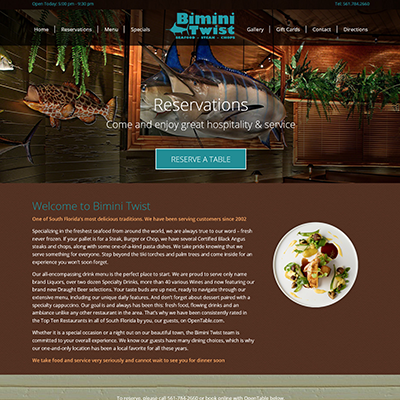 BiminiTwist
BiminiTwist is a Restaurant's Website. The Bimini Twist website hosts a very appealing interface and is designed on the WordPress development platform. The main goal of client for this website was to offer a reservation as well as shopping functionalities to their users. Client wanted that their users should have an excellent experience in reserving table online.
Our developers took the situation in hand and tested with several plugins to find the best match. Finally, we placed the best one that suited their need. Open Table site. Developers managed to connect the website with an API to allow the users to make a reservation using the Open Table site. Also we ensured that website was responsive and user have same pleasant experience on all the devices.
The client undoubtedly was very much happy with the experience that he received from by working with our team and the work that we delivered.
SECURE ANCHOR
Secure Anchor is focused on building out effective security roadmaps that actually work to protect an organization. Client desperately needed a new website that would help give authority and credibility to their cybersecurity consulting practice. They were also very much concerned and needed to clarify their website's message, so that their customer could understand it clearly.
Our team of designers and developers were very quick in analyzing the situation and understanding their requirement. We created a niche design for them and crafted a custom WordPress website that would allow for easy content changes. Also we ensured to integrate their website with their email marketing and event signup platform. Also keeping in mind their request for a nice SEO optimized site, we ensured that best practices were followed for the same.
The overall output of the website was above par the expectations of the client. Client is still working with us as they trust us with keeping their website upto date, secure and protected with our Extreme WordPress Care Plan.