Illustrate Digital is one of the leading agencies in the UK and Europe for WordPress, specialising in Financial Services, Tech, Legal, B2B and B2C.
They are a user-centric agency, believing that putting people first in the process of creating a website experience will yield the best results. Their belief is that content management shouldn't suck. What better tool to utilise for this than WordPress.
A dedication to the WordPress and WooCommerce platforms, alongside a high standard of customer service, has helped them to attract and retain great clients to work on ambitious projects with.
Working with the Cardiff and Bristol based teams is a fun, creative, dedicated, passionate and sometimes geeky process through to an amazing end result. Striving to create digital solutions that don't just provide information for the sake of it, but that help an organisation to truly grow.
Featured portfolio items.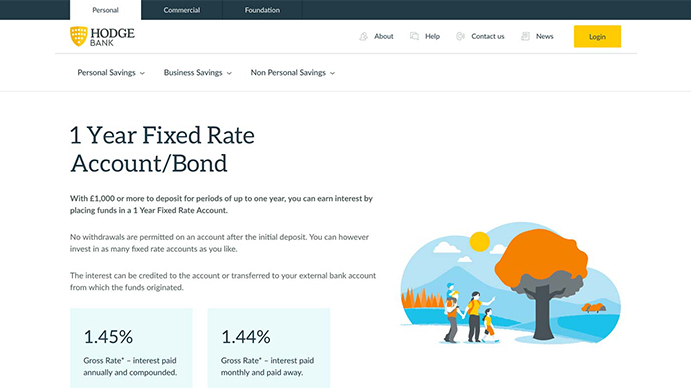 Hodge Bank
Hodge Bank is a lending and savings bank, headquartered in Cardiff and has been serving its customers including individuals and businesses in the UK since 1987. We began working with Hodge Bank in 2018, offering WordPress consultancy to their in-house development team. After seeing the positive impact we'd had on processes and content management, through our expert knowledge of the WordPress platform, we were asked to work on developing the new Hodge Bank website.
The site is built on WordPress and benefits from a block-based approach to content management. It's integrated with the back-end bank system to allow for user logins to check savings accounts and additionally pulls interest rates to be displayed on the front-end.
Ladybird Education
Ladybird Education is one of the world's biggest publishers of children's books. The project to transform their website, providing better access to teaching resources and featuring an improved user experience, was an exciting piece of work for the team at Illustrate Digital.
Utilising the WordPress platform we've built a system of easily manageable pages and posts for the team at Ladybird to update. Each book provides access to an additional library of resources for teachers across the world to take advantage of, which they can unlock using secret details from books they already own. To serve the resources we integrated Amazon AWS to provide encrypted access to eBooks, videos, PDFs and audio files for teachers to use in the classroom, as well as to keep storage light on the WP Engine server.
Furthering the site's security measures, we integrated with Auth0 to provide a seamless way to manage users and passwords without needing to store them directly in the WordPress database.