Love is an integrated strategic and creative partner to clients who seek meaningful and measurable solutions tot heir business challenges.Since 1979, we have been built for the speed and flexibility required of our clients and, today, we solve challenges with unique capabilities and talent that are among the best in the nation. Love offers creative services, research & strategy, media solutions, public relations, digital services & strategy, social media, production and web development among many other offerings.
Featured portfolio items.
Gulf Capital Bank
Love helped introduce a new bank with old school values in a city with a bank on every street corner by giving them a brand and identity true to the values of its founder, then make it look unlike any other bank in Texas.
We created their brand identity, collateral, and a custom website to match the unique and fresh brand of Gulf Capital Bank. We aimed to create a website that was both a refreshing design in a landscape of templated bank sites and had an ease of use for viewers to navigate to the page they were searching for.
View the site at GulfCapitalBank.com.
M2M Data Corporation, A Caterpillar Company
How do you make a data company's web presence as forward-thinking as their products, yet still echo Caterpillar, the Fortune 100 company who recently bought them? Love did so by highlighting M2M's amazing capabilities through modern design and functionality while humanizing the benefit to the end-user.
When M2M Data was acquired by Caterpillar, we merged the two brands visually by incorporating secondary colors from within the Caterpillar color palette and placed a focus on modern typefaces. We then introduced large format imagery to humanize the benefit. With clean design, simplified functionality and maximum whitespace, the website's user experience was in itself a demonstration of the experience of using M2M's products.
Love also created a photo library depicting oil field workers seamlessly interacting with technology. But we also incorporated a dynamic and consistent graphical element, inspired by the M2M logo, into every photo. The graphic conveyed a sense that the data is empowering the person to do more, with ease.
To view the site, visit M2MDataCorp.com.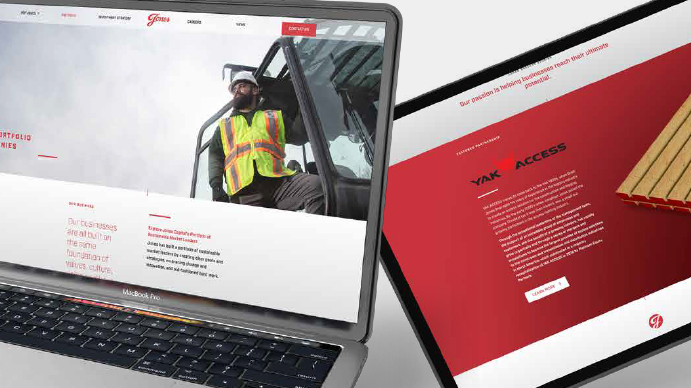 Jones Capital
Jones Capital is a smart and innovative investment company that still keeps its family history close while always looking to the future. This elegant website illustrates the duality of Jones Capital by showing the values that make up its foundation, while staying rooted in a work ethic that is still a large part of Jones.
Love was responsible for design and development of the site. To view the site, visit Jones.com.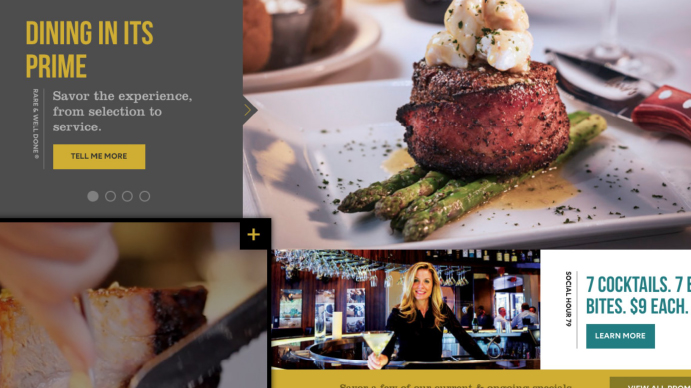 Perry's Steakhouse
Perry's Restaurants came to Love with a challenge to redesign and develop their Perry's Steakhouse website. Their site was dated and it limited their ability to grow as they began opening new locations at a faster pace. Perry's challenged Love to design a best-in-class website that highlighted their high-end photography, featured their ever-changing menu, promoted their current specials and promotions, and allowed visitors to quickly find their location and make a reservation.
Love rose to the occasion, designing and building a website that would go on to win a Silver Addy award at the 2019 Houston Advertising Awards, increase reservation conversions, and allow them the ability to continue to grow and feature more locations. The site also tied into multiple third-party services and APIs for features such as reservations, private dining inquiries, daily menu item distribution per location, email marketing, retargeting, and geolocation.
To view the site, visit PerrysSteakhouse.com