LucidCircus is a digital development company that helps clients create beautiful and effective experiences. Founded 1998.
Featured portfolio items.
The Startup Squad
TheStartupSquad.com is a brand and book series that promotes the belief that entrepreneurship can empower young girls to develop important life skills, follow their passions, and reach their potential. From the book itself to an entrepreneurial contest and engaging blog posts, The Startup Squad is an essential go-to place for young female entrepreneurs and entrepreneurs-to-be with support from great female leaders such as Sheryl Sandberg or Anne Wojcicki.
The website is built on WordPress utilizing WooCommerce, Printful, and a custom contest solution. A content and SEO strategy was used to gain online visibility for the book and the annual contest.
Coupons / Quotient
Since 2013, we've been working with Coupons to build everything from landing pages to newsletter templates to a full-scale niche social media platform in WordPress. In 2016 Coupons.com rebranded as Quotient.com and we worked with their team to redesign and then rebuild the corporate site along with a series of co-branded marketing microsites.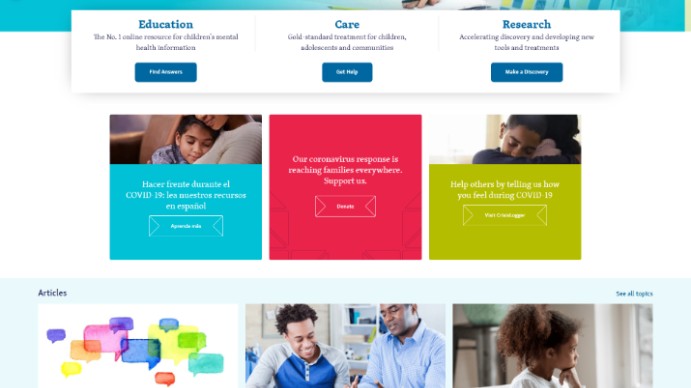 Child Mind Institute
The Child Mind Institute is an independent, national nonprofit committed to transforming the lives of children and families struggling with mental health and learning disorders. Teams work every day to deliver the highest standards of care, advance the science of the developing brain, and empower parents, professionals, and policymakers to support children when and where it is needed most.
The focus of the Child Mind Institute site was placed on delivering accessible, engaging, and responsive content optimized for search engines so that it reaches the right audience. The implemented strategy resulted in more than 70% YOY growth of organic traffic.
To support CMI please follow one of the links below: https://childmind.org https://www.facebook.com/ChildMindInstitute https://www.instagram.com/childmindinstitute/ https://www.linkedin.com/company/childmindinstitute/
SupertutorTV.com
SupertutorTV.com is an online, video-based resource for high school students. They specialize in online tutoring videos with tips, tricks, and lessons that cover college admissions and standardized testing. SupertutorTV's founder and CEO, Brooke Hanson, is a perfect SAT® and ACT® scorer, Stanford graduate with honors, and has been a tutor for over 15 years.
We assisted in a complete redesign of the website utilizing an optimized user experience for the site's target audience. Content is a large part of SupertutorTV's strategy which is why we also paid close attention to search engine optimization to ensure that content was in a position to pull in more traffic and ultimately conversions of their courses.