Mangrove is a woman-owned website design and development company with a diverse, talented team distributed around the globe. We've been building websites since 2009 that amplify the work of change-making organizations and increase the competitive power of businesses owned by historically marginalized people.
For us, success is helping conscious companies tell their story in a meaningful way. That's why we prioritize working with B Corps and other businesses that are making an impact with purpose-driven work—from green energy and sustainable design, to groundbreaking banking reform and social justice initiatives.
We deliver to every client a high-impact, customized website that's easy to update as business needs evolve. Before handing off a new or revamped site, we deliver thorough documentation and training, empowering our clients to take complete ownership of their content.
Featured portfolio items.
Mighty Networks - Growing Niche Brands and Businesses
https://www.mightynetworks.com Mighty Networks is the leading online platform to build businesses and networks. Amongst the sea of online tools needed to build a successful online network, Mighty Networks stands out as the hub to engage and inspire users.
The Mangrove team was brought in to develop three projects: Niche Name Generator: an interactive naming tool for niche brands; the Niche 100: a microsite highlighting the most creative online niche brands; and MightyNetworks.com: a refresh to improve the overall design and editing experience of the marketing website for Mighty Networks.
Our partners at L+R directed the UX/UI Research & Strategy for the Name Generator portion of the project, interviewing users and prototyping a tool that gets and keeps people engaged. Our team executed the designs and engineered the logic behind the Name Generator, ensuring a great user experience with helpful and inspiring results. Since its launch, we have continued to work with Mighty Networks to strengthen the logic behind the Name Generator. Today, their Niche 100 microsite allows aspiring entrepreneurs to explore some of the most creative and compelling online brands.
For the main website refresh, we created a WordPress site that has a bo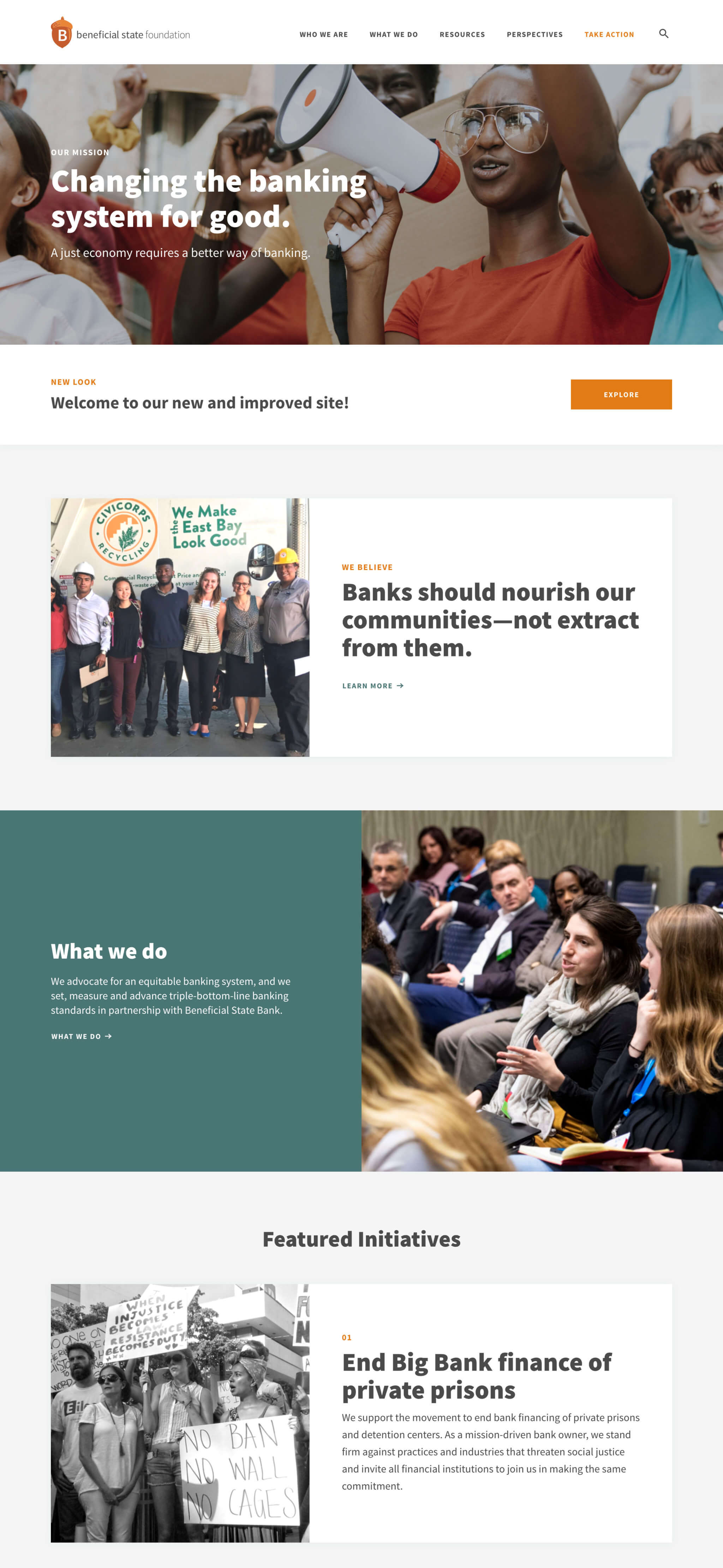 Beneficial State Foundation - Changing the Banking System for Good
https://beneficialstate.org/
Beneficial State Foundation is an advocacy organization and a nonprofit shareholder of Beneficial State Bank, a fellow B Corp. Their work in leadership development, policy advocacy and impact assessment has and continues to influence tremendous change in the banking industry.
When this project was brought to us, our team had already completed a website for Beneficial State Foundation's Clean Vehicle Assistance Program. On the heels of that successful launch, they wanted to create a site that would highlight the complex work of their foundation in a simple, visually impactful way.
The goal was to develop a website that would position Beneficial State Foundation as a thought leader and resource, while also encouraging visitors to use social media to help advocate for change. Considering the breadth of their work, we knew the biggest challenge would be telling their story and driving action without an overwhelming amount of content. Diverge Labs, our content strategy partner, teamed up with our designer and developers to make it happen, and the result exceeded expectations.
Today, Beneficial State Foundation's website is not only beautiful, but it offers a seamless user experience and clearly communic
Wikimedia Foundation
The Wikimedia Foundation is the nonprofit behind your favorite open source content, creating free and accessible knowledge banks on sites like Wikipedia and Wikinews. The Wikimedia team needed a new interactive website to demonstrate their impact and gratitude for the thousands of voices that contributed to over 5 billion articles on Wikipedia and their other open source projects. Each year their Annual report website receives millions views from around the globe.
In prior site analytics, it was apparent that most of the Wikimedia Foundation Annual Report visitors landed on the homepage and stayed there, so the team opted for a longer home scroll to enhance the site usability. The journey of allowing the site to look attractive and natural was a task requiring thoughtful approach and collaboration of designers and developers.
We worked through several iterations with our design partners at Public, SF to successfully map out what would best tell the brand story. Our goal was to create awesome animations without overwhelming the quality content, and find a way to enhance the story while not distracting users.
We architected various animations throughout the pages, highlighting the impact of the foundation and showcasing the donor
Opticos Design - Sustainable Architecture and Design
https://opticosdesign.com/
Opticos Design is a team of urban designers and architects that are pioneers in the development of walkable cities. We were introduced to the Opticos team through B Corp, a certification that our companies share which embodies the movement to use our businesses to create social and environmental benefit for the world.
Opticos wanted a new website that showcased their expertise while providing them with the tools necessary to improve overall user engagement. The company needed a modern and responsive web design to convey their brand messaging and reach their target audiences.
Mangrove assembled a rockstar team of designers, content strategists and developers to design and restructure the Opticos website. Our content partners at Diverge Labs guided the Opticos Marketing Team in simplifying the concepts of Missing Middle Housing and Form-based codes to seamlessly convey their areas of expertise. With our design team, we created a stunning animated illustration for the homepage hero to introduce prospective clients, developers, and academia to Opticos's work in urban design and architecture. The Mangrove development team created a customized WordPress theme built to meet the flexible editing needs of the