We work diligently with our clients to understand their business and goals. We plan the best strategy that works within their designated budget. Then we act to enhance their revenue opportunities, accelerate project implementation, craft elegant solutions to complex problems, and most importantly to achieve their goals. We offer our skills and services to businesses who desire progress, efficiency, and change.
MQ has worked on an array of projects, ranging from small WordPress websites for start-up businesses, to large-scale, connected digital ecosystems (comprised of massive websites, numerous properties, multiple third-party platforms, and custom-built features) for global digital publishers who serve millions of daily viewers.
Featured portfolio items.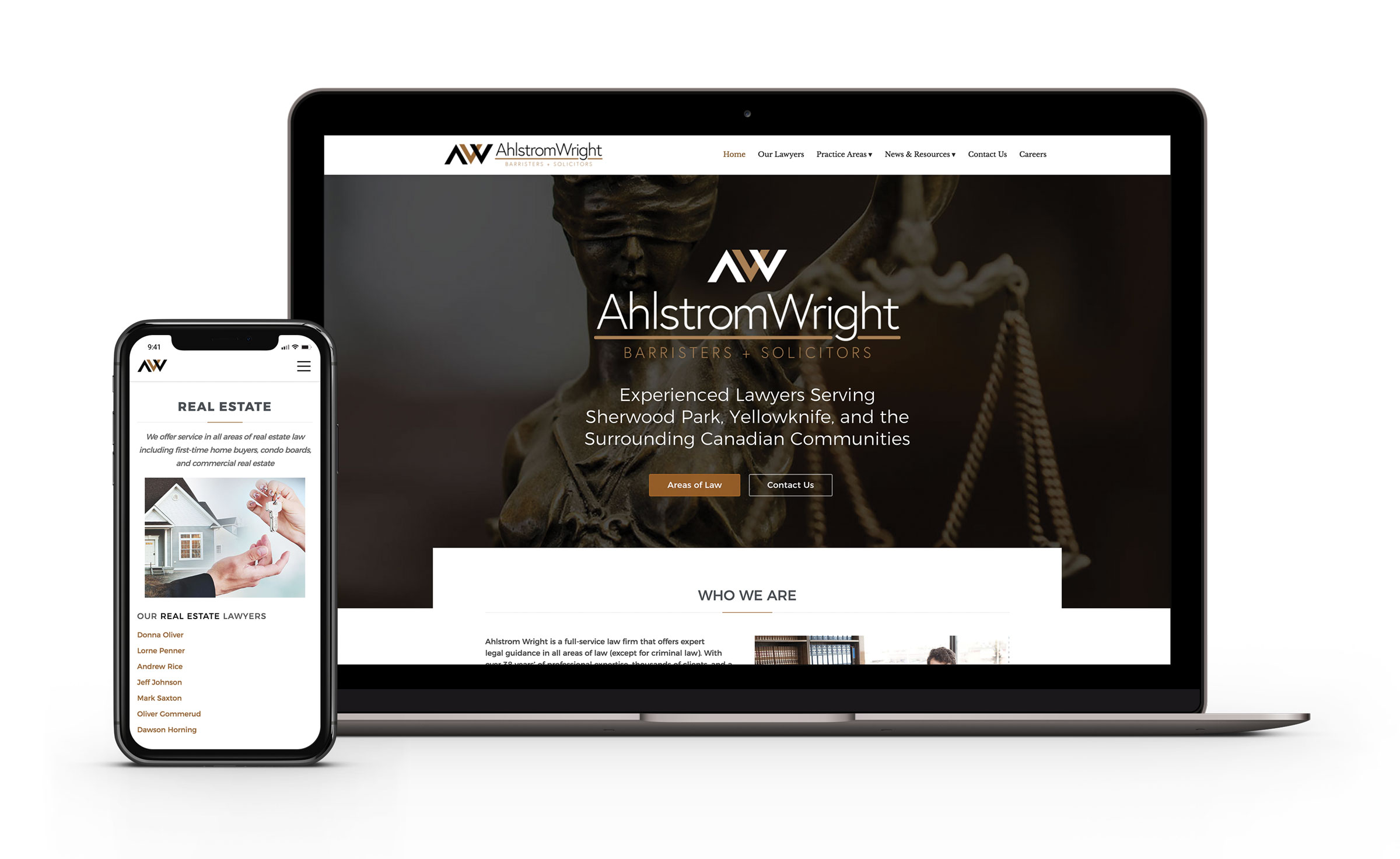 Ahlstrom Wright, Law Firm - Branding & Website Redesign
Alberta law firm seeks assistance in establishing a deeper local and digital presence after 38 years' in business. MQ's development and marketing team make immediate impact, redefine the firm's branding guidelines, and continue to manage ongoing website, marketing & content services.
Website redesign & rebuild • New branding guidelines, content, and SEO strategies applied to the new site • An expanded corporate website from 8 pages, to over 32 corporate pages, 113 resources and 3 additional microsites for a secondary location • Defined all core business copy and service positioning * Achievement: site traffic more than doubled comparing traffic before and 6 months after * Achievement: site now ranks #1 on key local search parameters (as outlined in the Branding Audit).
Branding, digital content, & search engine optimization strategy creation • 46-page brand guidelines document outlining: corporate logo, images, brand positioning, and key areas of law • 12-page content strategy & search engine guidelines for in-house staff; 9-pages of content brainstorming ideas • 12-month content calendar planning over 90 pieces of content to be written and published in 2018-19 * Achievement: One person working less than 40 hours per month manages all site content creation into 2019 * Achievement: site traffic tripled within 12 months as a direct result of organic search