We are not your average digital agency
NZ Digital are full service agency focused on digital strategy and web development.
We work with companies of all sizes.
----
Grow your business with WordPress
WordPress is a fantastic product, but getting the right solution for your business can be difficult. That's where we come in. We specialise in WordPress website design and branding.
WordPress website design, what's it all about?
WordPress is a fantastic product, but getting the right solution for your business can be difficult. That's where 
we come in. We specialise in WordPress website design 
and branding.
We take WordPress by the horns and incorporate any design to produce something beautiful. By doing this we capture all requirements which enable us to create strong, clean and professional designs encapsulating all your ideas.
With a vast amount of knowledge and our partners at the end of a phone we can work with you to deliver a fantastic WordPress solution that will empower your business.
----
Digital strategy, creative and technology
Our work is equal parts thoughtful strategy, great creative and smart technology that transcends industries, devices and code bases.
It is this high-calibre intersection of disciplines that enables us to deliver engaging work and measurable results.
----
We [heart] Opensource
We love WordPress and we love opensource software. Open source refers to a program or software in which the source code is available to the general public for use and/or modification from its original design free of charge.
WordPress is an opensource platform so everything you see in the back-end of your wordpress website, from the documentation to the code itself, was created by and for 
the community.
Featured portfolio items.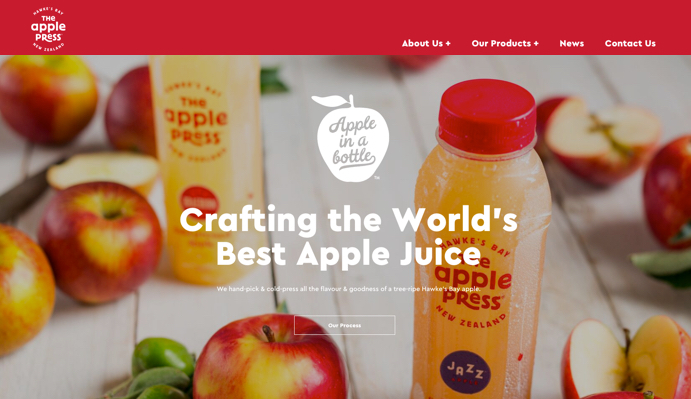 Nature, nurtured
The Apple Press® come from Hawke's Bay, New Zealand. Their purpose is to share the pleasure of drinking a Hawke's Bay apple with the world.
They give apples the 5-star treatment, hand-picked at their peak ripeness, cold pressed just once, then bottled delicious for you. They press from individual varieties like Jazz™, Braeburn and Royal Gala because they reckon, just like wine, every apple has its own taste characteristics.
Their mission is to make the world's best apple juice, from what they believe are the world's best apples – this is apple juice like you've never tasted before. They sustainably source the cosmetically blemished apples others reject and can trace apples back to their orchards of origin.
---
Challenges & Objectives The project brief was clear: design and develop a comprehensive and responsive digital experience that would enable The Apple Press to enter the FMCG juice market with maximum impact.
---
A Unique Brand Story The Apple Press came to NZ Digital to build a digital platform that communicated their unique brand story, highlighting their mission to make the world's best apple juice, from what they believe are the world's best apples – this is apple juice like you've never tasted before.
The new website accomplishes this through multiple forms of media such as video, interactive content and highly visual imagery. Simply by navigating through the site, the customer can obtain an understanding of what makes The Apple Press unique, but one area that principally highlights this important brand story is the 'mix it up' section.
This is an area where the brand can really promote to the customer 'why' and 'how' they are different. It reiterates their love of apples, the importance of their juice making practices and that each and every apple is given the 5-star treatment.
---
What the client says "We engaged NZ Digital to help us tell the story of The Apple Press online. They worked with us every step of the way, collaborating with our branding agency to understand the core values of what The Apple Press stands for. Starting with planning, through to design and final execution of the launch site we were impressed at each stage. NZ Digital has developed a digital platform that can grow and expand along with our range of products"
Amanda Lyon, The Apple Press.
---
The Results NZ Digital's work is engineered to positively impact traffic conversion and awareness. Since the launch of The Apple Press website in 2018, the new platform has delivered much positive impact to the brand.
21.59% Increase in Organic Search Traffic
55.73% Increase in New Users
3.47% Bounce Rate
Let's talk boats
Established in 1985 Rayglass Boats are recognised as leading designers and manufacturers of high GRP quality power boats. Constructed of fibreglass and produced in the Legend sport fishing and cabin cruiser styles as well as the Protector rigid inflatable pontoon (RIB) style of work, leisure boats and tenders.
The highest endorsement of Rayglass' performance has come from the organisers of the world's most prestigious yacht races – the Louis Vuitton Cup and America's Cup – who have, again chosen a fleet of Legend and Protector boats for on-water patrol and umpiring vessels.
Rayglass Boats partnered with NZ Digital to redesign their website and create a digital marketing platform that better reflected the company's personality, while still maintaining its market position as leading designers and manufacturers of high quality GRP power boats.
---
Challenges & Objectives
Communicate Unique Brand Story Highlight Rayglass Boats reputation for excellence in design and total commitment to quality and performance.
Inspire Brand Ambassadorship Educate customers on the "why" behind Rayglass Boats "exceptional on water performance" and "utmost attention to quality and detail".
Increase Online Engagement It was important that we made the content and media easily transferable to other digital marketing mediums.
---
Planning the Framework The RayGlass Boats range includes 5 models of thier legendary GPR boats and 8 models of the world class Protector RIBS.
There are many user choices and variables to consider — and there are even greater content variables when approaching administrating items. For the new online customer experience, we would have to craft an entirely new approach for the RayGlass team, one that equips the marketing and sales teams with product communication flexibility.
The specs needed to display accurately for all boats, including all possible engine and fit-out combinations. To up the ante even further, we added full galleries and 360 video tours of the boats. The digital platform would require a simple content management strategy that would allow for easy updates as required.
RayGlass Boats boasts a tremendous community of passionate and loyal fans, due in no small part to its fantastic boats, which is paired with an enjoyable brand experience. Therefore, any new design work needed to deliver the same enjoyable customer experience that Rayglass fans have come to expect from the brand.
---
What the client says "Adam and his team at NZ Digital have been fantastic to work with. Attention to detail and great people are the first things that come to mind when we were working with NZ Digital to develop our website. We can highly recommend this team to get the job done for you"
Matthew Flanagan, RayGlass Boats
---
The Results With a robust website, mobile experience, 360 degree tour system and full boat galleries, RayGlass Boats now has a comprehensive digital presence that is as expansive as their fan base.
43.47% Increase in Time on Site
6.35 Average Pages Per Session
2.25% Bounce Rate