Plank is an award-winning digital design studio, making the web a better place since 1998. We specialize in building websites and mobile applications for Arts & Culture, Non-Profits, Higher Education and Sports & Health.
Featured portfolio items.
The Children's Theatre of Cincinnati: Mobile-first Design
A playful launch video for a much-loved client, The Children's Theatre of Cincinnati.
TCT has an audience that is over 60% mobile so a mobile-first website was crucial to providing an exceptional user experience.
Celebrating over 100 years of theatre, we used imagery and animations to create a unique and engaging user experience. Our main goal was to echo a person's excitement and joy at visiting the theatre and translate that enthusiasm to its online platforms.
We used our expertise in: - UX/UI Design - Mobile-first Design - Information Architecture - Graphic Design - WordPress
Carolina Performing Arts: Pivoting for Pandemic Success
Carolina Performing Arts is an organization that collaborates with dynamic and compelling artists from across the globe to create novel, mission-driven performing arts experiences in partnership with their community.
CPA reached out to Plank with an original goal to audit their site and update the Tessitura TNEW ticketing API, but when the pandemic hit in 2020 we helped Carolina restructure their content and adapt to new challenges.
We helped them upgrade their entire website to the latest version of WordPress and helped them adjust their content to fit the transition to digital performances.
We used our expertise in: - UX/UI Design - Content Strategy - Information Architecture - WordPress - Tessitura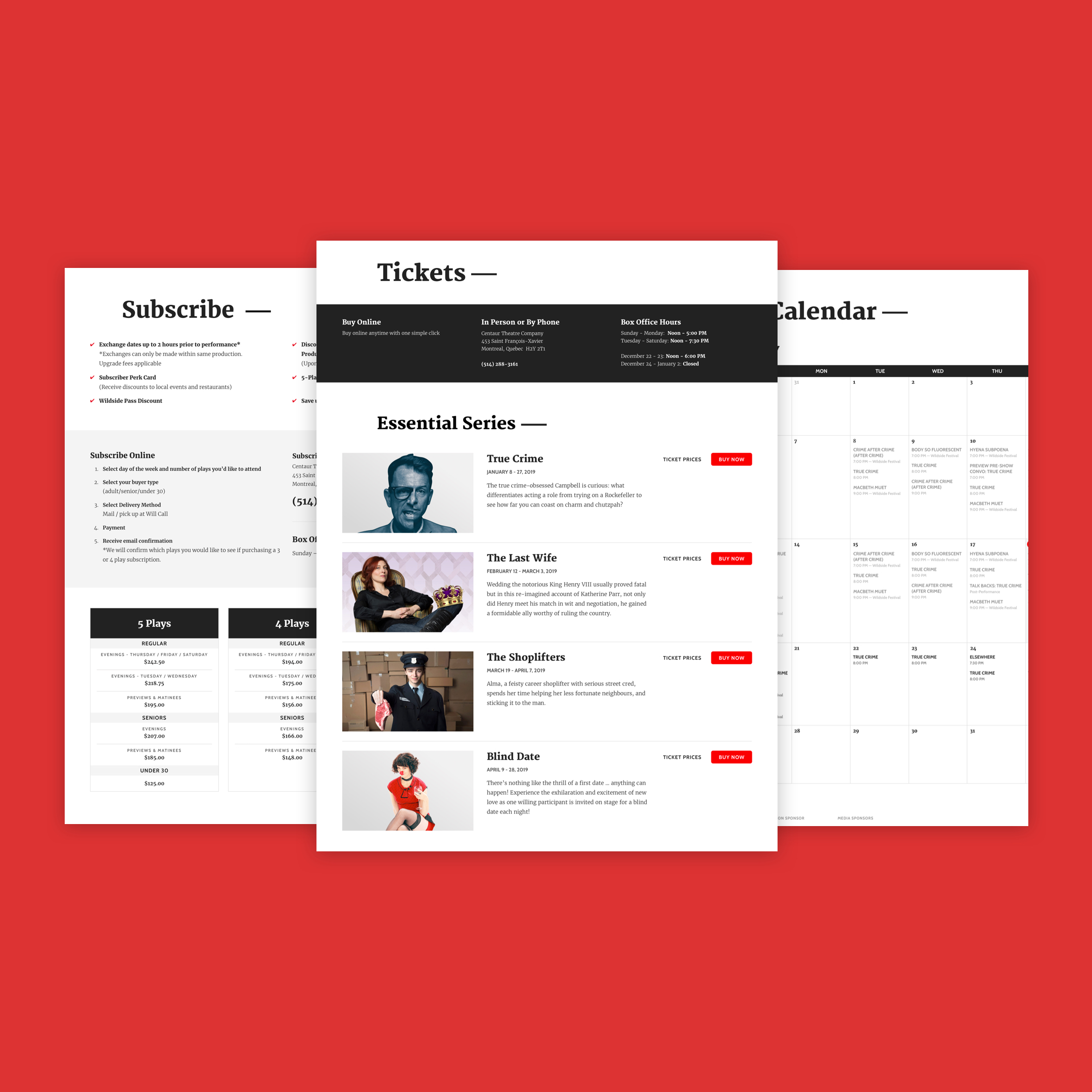 Centaur Theatre: Digital Storytelling
Centaur Theatre is at the centre of Montreal's arts community with over 50 years worth of plays taking place on their stage!
Wanting to improve their online presence, we worked with Centaur on a complete redesign of their website. Including everything from ticket purchases and donations to cast profiles and calendar functionality.
Creating a compelling new look and a strong platform they now have an online stage that lives up to the one within its walls.
We used our expertise in: - UX/UI design - Information Architecture - Content Strategy - WordPress