Punch Digital Strategies, Inc. is a branding, interactive and creative agency, providing website design and development, logo design and messaging strategy, app UX / UI, video production, event branding and creative services to B2B, B2C and B2G organizations. Feeling bold? Add some Punch.
Featured portfolio items.
Marines.mil
Marines.mil is the official website of the USMC. It's one of only a handful of .mil properties, managed by Defense Media Activity (DMA), a branch of Defense Information Systems Agency (DISA). For active duty Marines, their families, and former Marines, the Marines.mil website is the primary resource for news, updates, administrative announcements and information from Marines across the world. As opposed to the Marines.com website, which is focused on recruitment, Marines.mil directly serves current and former Marines and their families. Prior to the refresh, the site presented serious UX challenges, and offered a dated, web 2.0 design. It was time for a change, and DMA leaders turned to Punch as the partner to design the site's next generation.
ID.me
The ID.me Punch partnership began in 2015, when ID.me sought to redesign its Mobile Wallet experience. At the time, the ID.me Mobile Wallet was the primary tool through which ID.me users managed their various group affiliations. We conducted a full UX / UI redesign of the mobile app experience. Through this process, we developed a strong working relationship, and discovered shared values that made our teams a natural culture fit.
As ID.me grew, and our partnership continued, the company evolved from an ambitious startup to a formidable enterprise technology solution. As this rapid growth continued, ID.me leadership recognized the need to refresh and evolve the brand to position the company as a premier market leader in the identity space.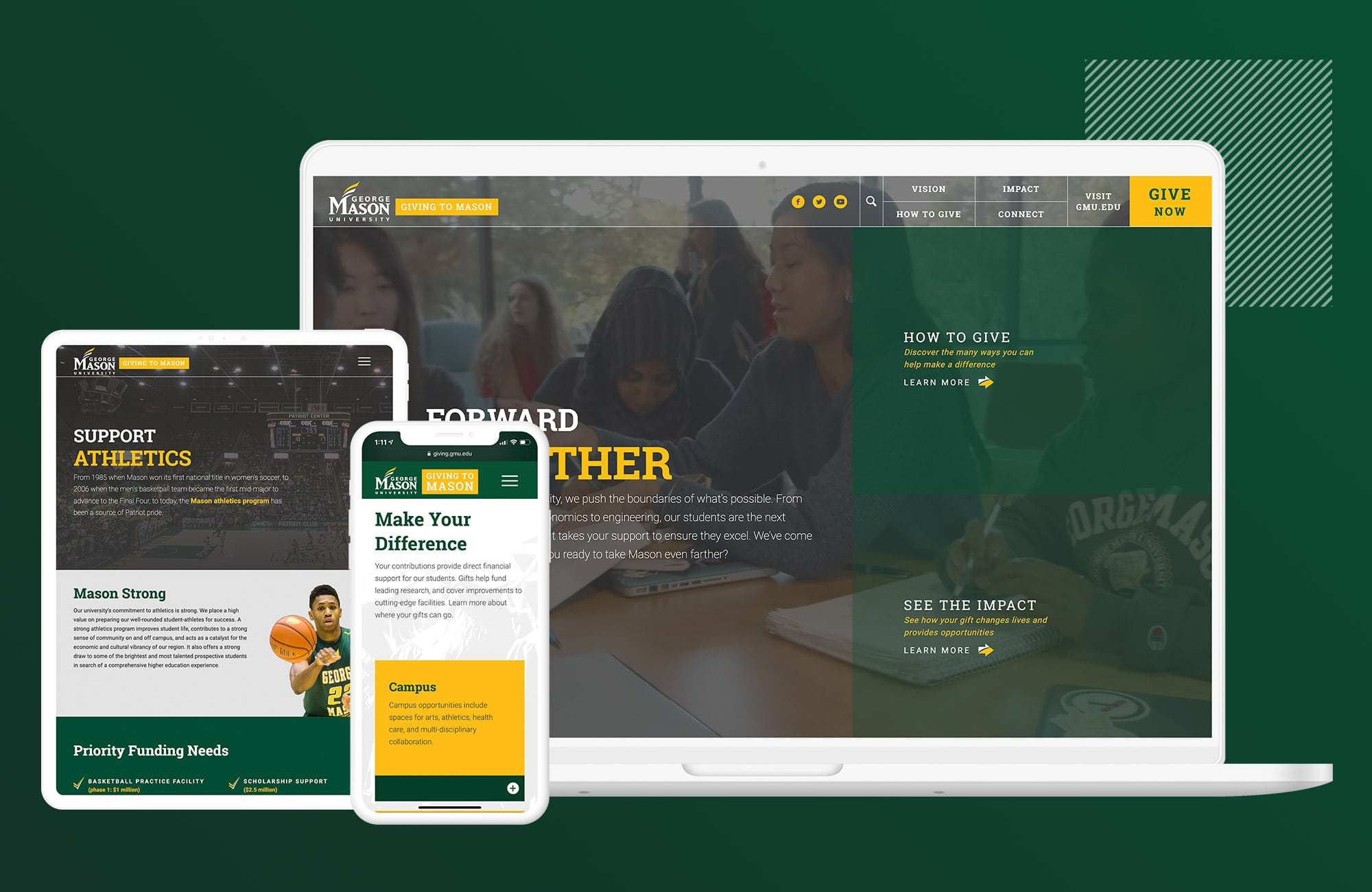 George Mason University
For public universities, it's a constant challenge to raise money in order to support facilities, research, scholarships and more. George Mason University in Fairfax, Virginia is no exception. GMU had recently launched a campaign called "Faster, Farther" to raise money for the university. The campaign successfully yielded 73,000 donors and more than $690 million raised. After completion of the campaign, GMU needed to carry the momentum forward in a more sustainable way. They needed a more evergreen message, and a cleaner website that was clearly separate from the main GMU website. George Mason reached out to Punch to help create giving.gmu.edu, a supporting website that encourages donations and showcases the impact.
Sococo
Today more than ever, remote teams are becoming the new normal. The convenience and cost savings of a work-from-home workforce are driving more and more companies to go virtual. But when teams are distributed, colleagues miss the spontaneity and fun of the physical workplace. Sococo provides a place where teams can come together, to work side-by-side, across any distance. The impact could change the future of how we work.