QUIK is a new kind of web agency, built on the idea that there is a better alternative to your typical high-overhead, high-priced ad agency, or the less than intuitive D-I-Y options that currently exist. We've developed a model that takes away the barrier to entry into the professionally-designed website space. By taking design and development costs, spreading them out over 12 months, and including hosting fees, we aim to help more small businesses, entrepreneurs, nonprofits, and start-ups make a great first impression on the web, while they benefit from our 25+ years of experience.
We have several tiers of our QUIK Websites™ available, starting at only $149 a month. Add to that over 200 base design options to start from, and we've got you covered. We provide hosting-only plans for those who already have a site they're happy with, and we also partner with local Digital Marketing, SEO, Graphic Design, Copywriting, and Marketing Automation experts, all to move your marketing efforts forward.
Featured portfolio items.
Digital Pharmacist
Built and recently launched by QUIK Websites + Hosting, the Digital Pharmacist site was a collaborative effort with their in-house marketing team and one of our partner designers. Extensive use of illustration compliments their generous content, all tied together in a custom build using Divi by Elegant Themes, with the help of the Advanced Custom Fields plugin. View at https://www.digitalpharmacist.com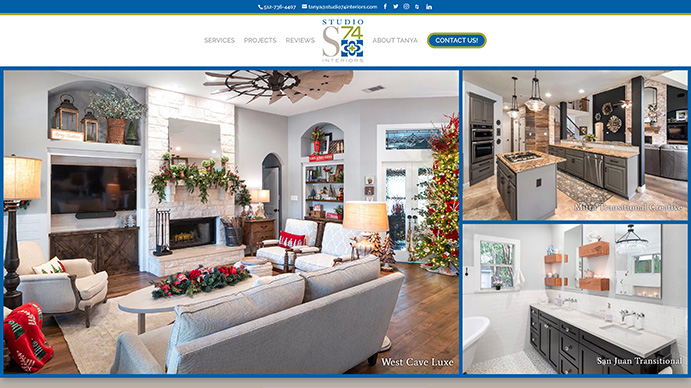 Studio 74 Interiors
Another recent site launched by QUIK Websites + Hosting, the Studio 74 Interiors site uses a minimal design to show off the owner's work! Custom-built layout, using Divi by Elegant Themes, that translates well to mobile. View at https://studio74interiors.com/
Bossier Federal Credit Union
Built and launched by QUIK Websites + Hosting, the Bossier FCU site was a collaborative effort with one of our Dallas agency partner designers. Use of big chunky photos balances their not-so-glamorous banking content, all tied together in a custom build using Divi by Elegant Themes, with the help of the Advanced Custom Fields plugin in areas like selling their repossessed vehicles, homes and land. View at https://www.bossierfcu.org
CS Knot Works
To show our range, this site is a simple one-page affair, with photos shot by the client. Built and hosted by QUIK Websites + Hosting in a customized, pre-built layout from Divi by Elegant Themes, we believe that all who want a professionally-built website should be able to obtain one. View at https://csknotworks.com