We are branding specialists — and highest tier WP Engine Strategy Agency Partners — who have pushed the capabilities of WooCommerce to new levels.
Frequently working in collaboration with other developers and in-house teams, we create brands which are authentic, credible and hard to copy. This enables our websites to communicate your brand promise AND deliver on it, simultaneously. We do this via a more open and challenging process than traditional agencies contemplate but which ensures that, from Day 1, your staff and key influencers are enthusiastic brand ambassadors.
A long-standing UK company working with national and international businesses large and small, we have proved especially successful in helping challenger brands which need to look every bit as good as the market leaders, but lack their stratospheric budgets, to grow.
Featured portfolio items.
Dream Car Giveaways
Following a rebrand and new website by Real Branding, Dream Car's monthly raffle ticket sales grew by 740% in Year One, exceeding 120,000 in December 2019 – and then kept growing. Across 2020 as a whole, total ticket sales were up 895% on 2019, at one point exceeding 675,000 in a single month. This extraordinary success inevitably created scaling-up challenges, especially as ticket sales clustered around peak times when visitors – including those watching livestream video  – were also at their most numerous. During these peaks, sales often exceed 20,000 tickets in a single hour.
Monthly ticket sales via this Wordpress, WooCommerce website now exceeed 100 times the level reached when Dream Car first approached us back in October 2018. Throughout this phenomenal growth, their website has operated with almost no downtime. Their Trustpilot rating remains 'Excellent' and, of nearly 6,000 reviews, some 50% specifically mention how good the website is. Growth has continued in 2021. Despite prompting hundreds of copycat rivals, Dream Car remains by far the biggest site of its kind in the UK.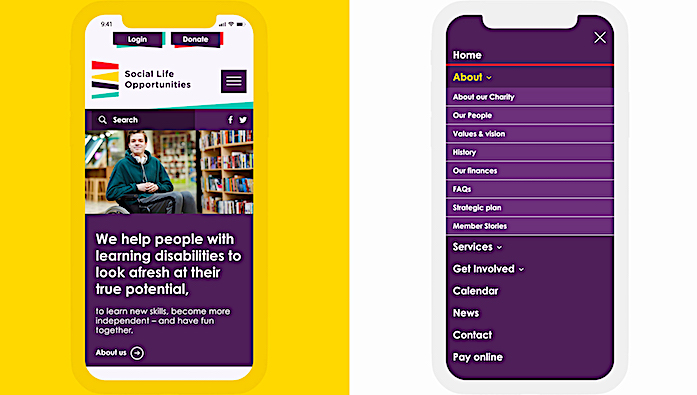 Social Life Opportunities
This brilliant UK charity with national ambitions needed branding and a website to show just how good they are. They also needed a less confusing name.
Following extensive collaboration with staff, users and others, we introduced a subtle name change and a new branding which, like the new name, retained familiar elements of what came before. This kept existing users happy, whilst delivering a website which compares well with any national charity and is a joy to look at and use. It has proved highly popular with the in-house team maintaining it and, especially, with new users. Launched during the first Covid lockdown, it has helped the charity to communicate and provide essential services during a highly testing time.
The Phone Co-op
The UK's only co-operative mobile & broadband provider, the Phone Coop wanted a powerful rebrand which would support the work of their in-house design and social media teams and increase their appeal to younger, less affluent mobile phone users. It also needed to avoid alienating existing customers, dominated by older, wealthier home owners.
Our rebrand reconnected the Phone Coop with their purpose. They loved how practical it was for their in-house teams to use, especially as it came with a comprehensive, user-friendly guide. It also gave their new CEO the foundation he needed to make the Phone Coop "The preferred choice for other co-operatives, co-op members and those of like mind". This was essential to his overall and ultimately successful strategy to merge the Phone Co-op with a much larger UK co-operative business.