Founded in 1999, Redback is one of Newcastle's longest-running digital agencies, specialising in website design and development, content creation and digital marketing services.
From small-medium companies, to large institutions, government organisations, councils and Ecommerce brands, our tight-knit team of 24 have experience working with a broad range of clients.
Specialisations:
- Custom WordPress web design, development and integrations
- Shopify web design, development and integrations
- Digital marketing strategy & consulting
- User experience (UX) design
- Search Engine Optimisation & Google Ads
- Content marketing, copywriting & social media creative
- Online Advertising eg. Facebook, YouTube advertising, etc
- Branding, graphic design, photography & videography
- Marketing analytics & data
Our mission is to be the most reliable, effective and valuable digital team for our clients — all whilst enjoying the journey together.
Featured portfolio items.
Elecbrakes: Custom WordPress / WooCommerce Website, ERP Integrations, SEO, Branding & Marketing
Elecbrakes is a revolutionary wireless electric brake controller, changing the towing game for hire businesses, construction companies and your average Joe with a caravan, horse float or boat trailer. To launch their innovative product, they needed a new website and a clever content marketing strategy to reach and inform their diverse target audiences. That's where we came in to play!
We've been taking Elecbrakes on an exciting growth journey in recent years and were engaged to refresh their brand, manage their SEO and digital advertising and develop a bespoke website to take this innovative brand to the next level.
This custom designed and developed WordPress site includes integrations with WooCommerce, Odoo ERP and other platforms critical to the business' operations.
See: https://www.elecbrakes.com/
Muswellbrook Shire Council: Custom Local Government WordPress Design System & Web Development
Muswellbrook Shire Council needed to redevelop their website to better reflect their belief in connecting people from all corners of the community. The design is simple, easy and consistent with the Australian Government's official design system as well as the Councils brand guidelines. 
In recent years, we've been investing significant resources into a custom development framework, incorporating government-standard design systems and modern functionality for the WordPress platform. This means that our custom WordPress website clients benefit from a range of modern website features, technologies and production efficiencies i.e. higher quality, modular custom websites that are cost-effective, durable and built to evolve as technology progresses.
See: https://www.muswellbrook.nsw.gov.au/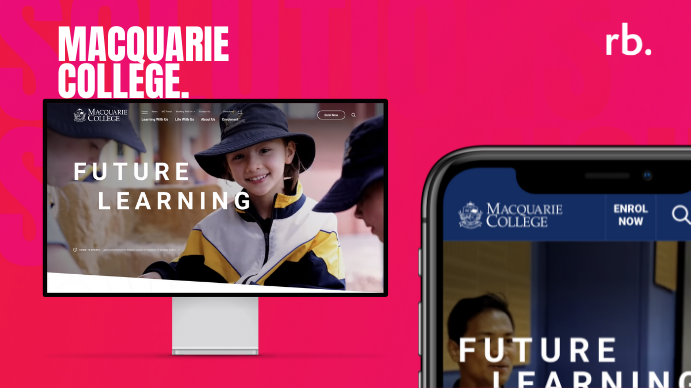 Macquarie College: Custom WordPress Website, SEO & Creative
Macquarie College is a non-selective and independent Private Christian School welcoming students from the Newcastle, Lake Macquarie, and Hunter Valley regions (and beyond). They pride themselves on being an aspirational and future-focussed learning community.
We were engaged to create an exceptional online user experience that accurately reflects their values and story, increases enrolments and provides an additional avenue for parent communication.
See: https://www.macquariecollege.nsw.edu.au/