Your website if your first opportunity to make an amazing first impression. Your customers want to quickly find what they are looking for and feel that your business is trustworthy. Get a beautiful website that helps your business be easily found on the web and sends you more customers.
Ensuring that your business information is listed correctly across the web, and protecting your reputation from negative feedback are important to getting customers to choose your business over your competitors. SpinnerMedia can help you manage your business listings, review and respond to public reviews, and manage your social media marketing all in one place. Reaching new customers doesn't have to be hard. Let us help you attract new customers, so that you can focus on serving them.
Featured portfolio items.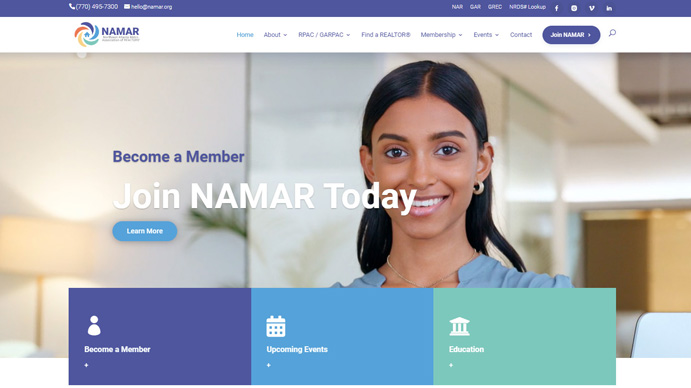 NAMAR Rebranding Campaign
Northeast Atlanta Metro Association of REALTORS® (NAMAR) is one of the largest REALTOR® Associations in Georgia. In 2022, SpinnerMedia supported NAMAR with their rebranding campaign. We worked closely with key stakeholders to design a new brand that included a new color scheme representing the inclusive spirit of NAMAR and the diversity of its memebers. The delivered assets included multiple logo formats, an animated logo, a branding style guide, and a completely redesigned and rebuilt website.
Clothing Brand eCommerce Website with Graphic Design
With this project the client needed a fully functional eCommerce website to sell items for their clothing brand. We built a custom website on using WordPress which is integrated with their credit card payment gateway, and it is integrated with suppliers for automatic order fulfillment. We also provided graphic design services for logo creation and print graphics.
Realty School WordPress Website
The client needed an updated informational website that allowed for booking attendees into classes. We built a custom WordPress website to fit their brands, and included a plugin that allows students for sign up for events that are scheduled by the client on the website.
WordPress Development for Charter Captain
The client was starting a new business and needed to generate leads from a professional looking website in time for the summer months. We built a beautiful website to target the service area using our SEO strategy, and the client has had a prosperous first year!