UPQODE, Web Design & Development Agency with more than 7 years of experience and more than 120 projects completed. We specialize in Branding, Web Design, and WordPress website development. Our design philosophy is centered around simplicity. We focus on highly customizable, fast and optimized themes, clean lines, white space, and solid colors to create an aesthetic that is both modern and timeless. Some of our WordPress Themes are featured on ThemeForest. More than 50.000 websites are powered with templates and themes made by our team.
The expertise and responsibility of our team is the core of high-quality web design and development we provide. Proud to be partners with brands like Awwwards, Wpengine, Samsung. Travod, Cowfunding Netzwerk UG, Lafarge, CTC, UPS. Everything great starts with small - communication. Check out our website to learn more about us, view our work and get in touch.
Is UPQODE capable of doing my project? - For sure. We take over your project only when we are 120% sure that we are capable to deliver the expected result.
Do you care about helping me succeed? - For sure. UPQODE stays in your corner. We go that extra mile to help you succeed, and even help you look good and impress the other people in your world (customers, associates, etc.).
Will you make my life easier? - For sure. Saving your time and energy is our main scope. That's why we try to provide optimal solutions, good response communication time. We take huge care of your needs. We understand the business goals and deliver them according to your business values.
That said, we would be happy to schedule a [30 minute / 1 hour] session with you to make sure we are covering all the bases
Featured portfolio items.
KITH AND KIN (Creative Branding/Web Design/Web Development)
Meet our new website created especially for Kith&Kin;: an award-winning, multidisciplinary design consultancy based in Hong Kong.
The company provides different design services such as Strategy & brand positioning, Visual identity system design, Collaterals production & design, Product & Packaging Design, Naming and Website design. They are creative and simple at the same time as well as the website that they needed.
CLIENT'S NEED Our client was looking for an intuitive website with a very simple structure. The main requirement was to have a proper portfolio page that would be easy to use. The portfolio shows their recently completed projects that are always updated, so their clients can see what to expect from their service. In general, the client needed a friendly-user portfolio website divided into three categories: homepage, about the company and portfolio.
OUR DIGITAL SOLUTION UPQODE team made a web design from scratch, based on WordPress using Portfolio Rolling Slider, Split Slider, and Full-Screen Menu. Also, we chose a flat and clean minimal design in two Colors (White, Red) so it will not distract visitors from the portfolio itself.
And another important option we've added to the modern portfolio is 3D Hover Effect

SEW SKETCHY - WordPress/ WooCommerce Website (Creative Branding/Web Design/Web Development)
Our newest fashion client, Sew Sketchy, is worth your attention. We developed a freshly branded website that catered specifically towards Sew Sketchy's bold and colorful vision that was brought to life. Sew Sketchy is an illustrated fashion icon who loves anything to do with fashion, travel, and luxury. Fashion icons such as Anna Dello Russo, Giovanna Battaglia, and The Man Repeller are all Sew Sketchy fans along with luxury brands such as Valentino, Stuart Weitzman, and Giambattista Valli are all obsessing over her too.
WHY WE LOVED WORKING ON THE SEW SKETCHY DIGITAL PROJECT It was a great pleasure for our web designers and developers to work on an innovative project linked to fashion, creativity, and inspiration. Sew Sketchy is one of the heavyweights in the fashion industry. She's a powerful influencer in New York. We, at UPQODE, appreciated Sew Sketchy's satirical approach where she demystifies stereotypes.
WordPress Website for THINK TANK TEAM, part of SAMSUNG Research America
Creating a unique website for Think Tank Team (TTT), part of Samsung Research America, was a fascinating experience for our UPQODE team. We particularly loved designing a stunning Project page.
TTT is a group of interdisciplinary researchers, scientists, designers, who are passionate about inventing experience-centric and futuristic products and technologies. TTT has developed several outstanding projects: Farming platform producing fresh vegetables in the kitchen; a new generation of heart rate and stress monitoring algorithms; the first circular smartwatch; the world's first true 3D omniview camera, as well as the first wearable band-based camera.
CLIENT'S NEED
THINK TANK TEAM needed an impressive, bright and intuitive website with a well-structured interface. A special requirement was to develop a creative homepage with different teasers. As an ambitious research project, TTT wished to offer to its visitors a modern and spectacular works exhibition. The THINK TANK TEAM's digital platform aimed at getting more visibility and showcasing its futuristic projects.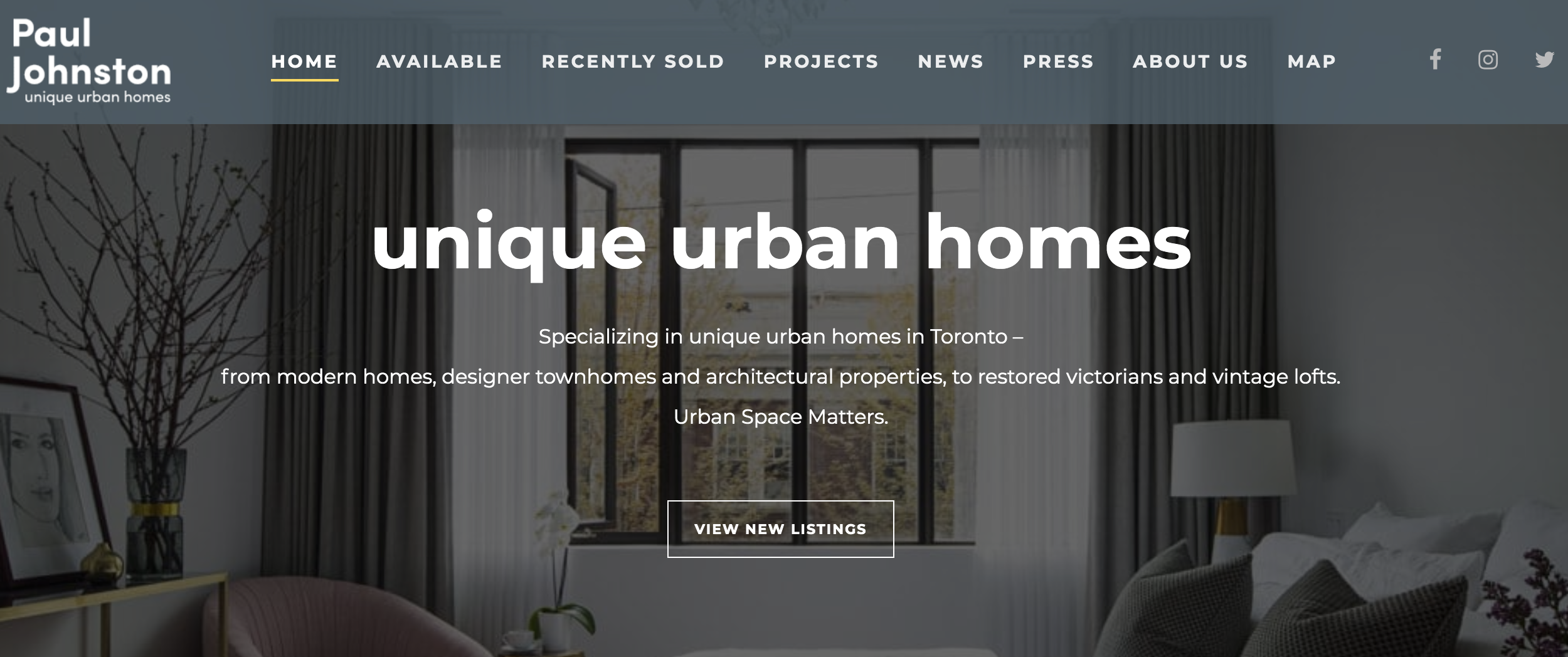 Let us present you WordPress Website designed and developed for the real estate professional – Paul
PERFECT AT ALL: FROM A NICE DESIGN TO EASY USAGE AND FUNCTIONALITY Let us present to you our new project developed for the real estate professional – Paul Johnston.
The website is dedicated to showing available housing options in urban style like a special loft, stunning condo, restored victorian, modern townhome or a unique space to re-invent for themselves. So, for this collaboration, we've created a website that looks like a complex example of a portfolio, but with the biggest amount of information, and helps to discover a world of perfect buildings. They are really stylish, nice and also functional and comfort in use.
CLIENT'S NEED Paul was looking for an intuitive website with a well-structured interface. His special requirement was to have a homepage that would show the recently added housing options so his client would get from the first sight what is available now. In general, the client needed a friendly-user portfolio website divided into three categories: available options, recently sold and upcoming projects. Also, Paul was interested to be able to add articles and the latest news in the real estate industry.