weCreate website design and marketing is a full service B2B and industrial marketing and website design agency that specializes in lead generation. Our designs are cutting edge, and our results are unmatched. In a time where digital proficiency matters more than ever, we are the partner you are looking for.
Featured portfolio items.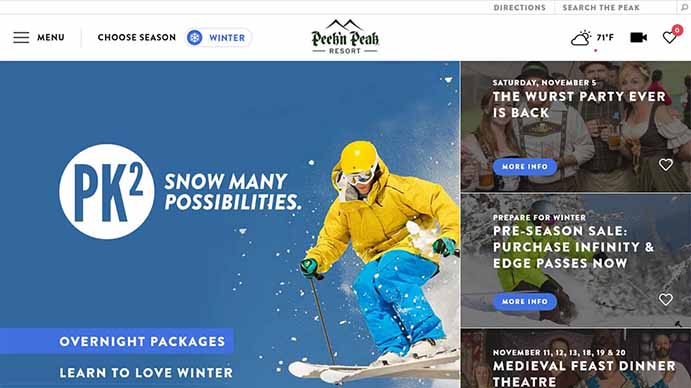 Peek'n Peak - Resort
Peek n' Peak brings families together by providing weekend getaways on the slopes or as mountain adventures. Their goal is to attract new guests and retain past customers while providing family experiences that last a lifetime. weCreate designed an innovative new website with the ability to change with the seasons, showing families what exciting events await throughout the year. Our expertise in Search Engine Optimizations and highly successful Google and Facebook advertising assist in attaining these goals. This hotel and resort website design project enhanced Peek n' Peak's image while optimizing their users' experience. Our marketing tactics are crafted to find potential clients and make it easy for them to find Peek n' Peak based on a number of Google searches. Since the launch of their new website and the ongoing digital marketing efforts, Peek n' Peak has seen an 82% increase in traffic compared to this time last year.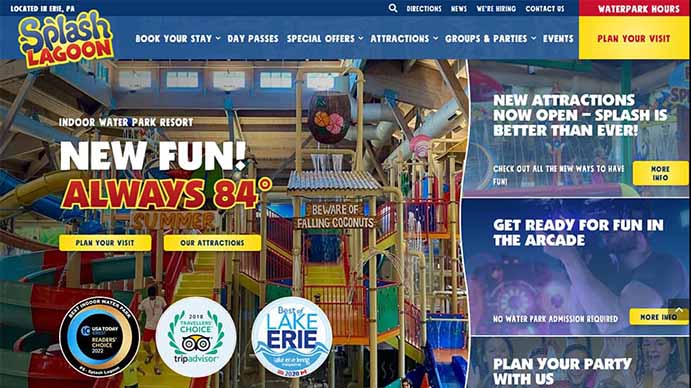 Splash Lagoon - Indoor Water Park
Splash Lagoon's 84-degree tropical Polynesian atmosphere is ranked one of the Top 10 Water Park Resorts in the country by numerous industry trade magazines. Our team brought new life Splash Lagoon's online presence, and provided a better experience for visitors by making information easier to find, and displaying how wonderful the waterpark is with photography and videos.
PHB, Corp. Global Manufacturing & Die Casting
PHB is an Erie, Pa.-based global manufacturer that provides injection molding, tool and die design, and a variety of die casting services. As one of our oldest clients, weCreate continues to direct targeted traffic and new business leads to the manufacturing website we designed for them. In fact, in less than a year, we were able to boost PHB's impressions by 223% and get them eight times as many clicks as they'd seen in the past. Our continued search engine optimization work is based upon a thorough understanding of the international manufacturing industry, as well as our ability to optimize previous content and create valuable new content around the keywords consumers are actively searching for. Additionally, weCreate has provided specialized photography and video services that keep visitors engaged and help encourage interaction with PHB's website.
Distribupack - Distributor of Stock Packaging
Distribupack is a highly competitive distributor of stock packaging. Our team was tasked with creating a brilliantly designed website to improve their company image, as well as providing special technical accommodations to enable Distribupack to remain price competitive in the area of shipping and fulfillment. We developed custom quoting and packing functionality using shipping APIs like UPS to accommodate massive order quantities and their proprietary shipping processes. We also provide significant ongoing marketing and SEO services to grow their sales.