Wizard is the digital marketing partner for time-poor small to mid-sized businesses. Our simple solutions turn small businesses into bigger businesses. Trust us to carry your digital marketing load for you and we'll get it all done with minimum fuss.
Digital Wizard and Owner, Ginny Wills, has a background in traditional marketing on an international level coupled with skills in web development honed over the years has given Ginny a brilliant platform to work for clients on a consulting basis. She can act as Marketing Director for small businesses who don't have or can't afford a full-time person and provide services anywhere from website design and development to marketing strategy and social media. She has strong technical and writing skills, as well as an eye for design, which means clients rarely need to call on anyone else.
Wizard has offices in Atlanta, GA with clients spread across the globe.
Featured portfolio items.
Bella Medspa
Bella Medspa has been a successful business in Atlanta for over 10 years. The owner came to Wizard for help with her social media, but we quickly determined she needed a new website and overall branding to set her up for the next 10 years. As a small business, Bella does not need someone full time for just marketing, so we work very closely with the team on a consulting basis. We have designed and developed the website, implemented a social media and email marketing plan, and manage anything marketing related, both online and offline.
Together, we have been so successful that they have opened a second location.
Spend Management Experts
Spend Management Experts (SME) has a very successful track record of helping clients optimize their supply chain spend with savings of 20% or more. In a highly complicated and sometimes "dry" industry, SME's brand has been able to stand out thanks to a very unique design across its marketing platform. After nearly ten years in business, they asked Wizard to join the marketing team on a consulting basis and help update their messaging, website and branding. We are now an intricate part of the team and have brought a multitude of creative digital initiatives to the marketing strategy.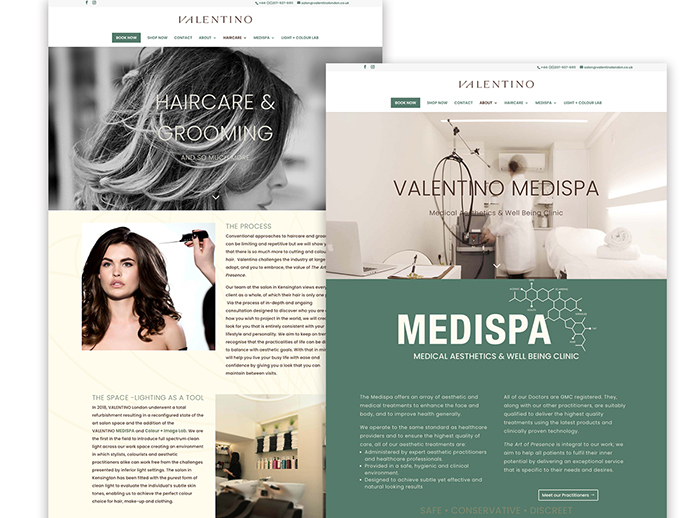 Valentino London
Valentino London, as part of an extensive renovation, expanded its salon in Kensington to include a Medispa for medical aesthetics and wellness. This prompted an overall redesign of their website and digital marketing. We enjoyed this project every step of the way and continue to work with them regularly to market their new facilities and services.
William Word Fine Antiques
The owners of William Word Fine Antiques wanted to update their site with the added capabilities and greater integration with social media. We migrated over 1000 products and nearly 10,000 images to WordPress which gives them the flexibility they needed for future growth. We continue to work with William Word on their website, as well as email marketing and graphic design.