What is Related Posts by Bibblio?
Bibblio uses industry-quality AI to suggest genuinely relevant content from across your site on each of your posts, which keeps your visitors engaged and exploring more.
It's easy to install and run, automatically connecting all of your posts in the background whilst you're free to drop fast-loading, stylish related post modules into your templates. All the heavy processing is done on Bibblio's side, without cookies, making the tech super-light and unintrusive.
"Bibblio helps us recirculate our digital content in an elegant and effortless way."
– Serena Guen, SUITCASE Magazine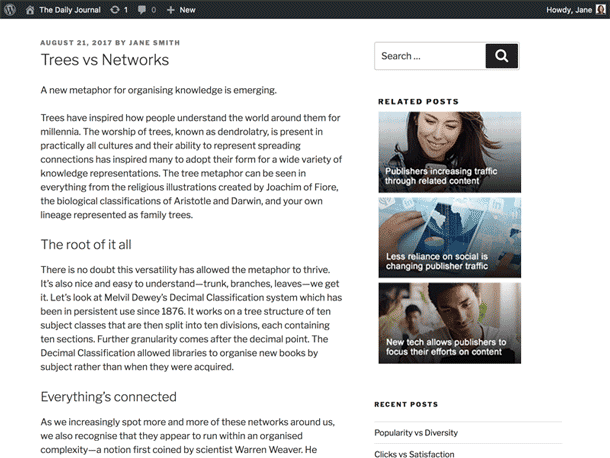 This product is ideal for any size of WordPresser looking to increase page views, and improve bounce rates and time on site. Driving site engagement is also the most powerful way to improve SEO (according to SEMrush's Ranking Factors Study 2.0).
It's currently running on hundreds of personal blogs, across great niche publishers such as SUITCASE and Art of Manliness, and all the way up to large content owners, such as Planet Sport. Bibblio also generates recommendations for National Geographic, Mashable, PC Mag, AFAR and many more, using other implementations such as JavaScript snippets or Bibblio's API.
What are the features and benefits of Bibblio?
Fast – Related posts load asynchronously on your site, with the heavy lifting done on Bibblio's side so it won't slow down your site.
Automatic – Bibblio imports your posts in the background and indexes them to understand how they all relate.
Dynamic – Choose to display related posts that are influenced by your user behavior, for greater engagement.
Recency – Let your modules only recommend recently published posts (or anything in between) – ideal if you're an up-to-date news site.
Placement – Automatically drop modules in your sidebar using widgets, or add it anywhere in your page template code.
Pre-designed – Choose from thousands of combinations of professionally designed module styles using an easy-to-use module builder.
Grouping – Use the catalogue features to separate your content in groups
Cross-site – Bibblio's syndication allows you to recommend across your sites if you have several digital brands, or partner with publishers to create a private pool of sites.
Personalized – If your site offers user registration, Bibblio can offer recommendations modeled based on the user history.
Images – The Quick Start code automatically imports images from your page to display in each module thumbnails.
Privacy – It doesn't drop cookies on your users or collect any personally identifiable data, so there are no privacy or GDPR concerns to worry about.
Mobile – Your modules are designed to degrade gracefully across tablet and mobile, for the best experience possible.
Languages – Bibblio can produce related posts for any site that uses the Latin alphabet.
Tracking – Add parameters to the links in your modules to track what's being clicked on in your third party tools, such as Google Analytics.
Metrics -Monitor the number of related posts you have stored, how many times the modules have been shown and their click through rates.
Support – Bibblio's easy-to-use Help Center guides you through setup, troubleshooting and making the most of this powerful plugin. You can also speak to an actual person if you're really stuck!
Most related posts available as a free resource use post categories or tags to cross-link articles, which means recommendations are rarely accurate. Bibblio uses standardized natural language processing to thoroughly analyze your content. This extracts relations, typed dependencies between words, and synonyms, that can be used in powerful context-aware semantic applications. A layer of machine-learning optimization is added to these connections: with each click the recommendations are recalibrated to adapt to user behavior, in order to ensure your site displays the best results for your audience. All the tracking is done anonymously through Bibblio's modules, so nothing needs to be done on your side.
You can choose between popular, optimized, related, or cross site recommendations at no extra cost. Your visitors will get the opportunity to engage with more of your content and stay longer if you add several modules to your pages with different recommendations types, or choose to recommend from different catalogues.
Implementation is quick and easy thanks to Bibblio's Quick Start code: a code snippet added to your site automatically imports new and existing posts, whilst the display snippet is added where you want the module to appear. If you're unsure about how to set it up and lack the technical resources, a member of the Bibblio team can set up a call to help you with installation.
Sites are seeing around 6x ROI when they use Bibblio's tools. Talk to a member of the Bibblio team to find out more.
"We've seen its spookily accurate article recommendations drive a 2.5% increase in overall page views. Bibblio is able to understand what our news stories are about and recommend the perfect related stories. In many ways, I suspect there is some witchcraft involved."

– Matt Martel, Business Desk
The WP Engine Advantage.
WP Engine and Bibblio are on the same mission for the web – specifically in creating experiences that derive more value for both the site owner and the end user. Bibblio was very keen to bring the power of their content discovery platform to WordPress users via a tool that could get them running enterprise-quality recommendations in just a few clicks and at exceptional value.
As Bibblio's processing is handled outside of WP Engine, the platform recognized it as one of the few related posts solutions they recommend as an alternative to those that suffer from the same MySQL, indexing, and search issues that cause performance problems. Couple that with the 'spookily accurate' related post suggestions powered by a set of ever-learning, ever-improving AI algorithms, and displayed in slick, well-built modules, and it was perfect for WP Engine users.
At the start of 2019, Related Posts for Bibblio was accepted as a recommended plugin, passing all code reviews and certification, assuring WP Engine's customers that this was the go-to, stable solution for related posts and more. Those customers were used to doing the right things – they'd chosen a premium service such as WP Engine after all – so they expected a professional, results-driven experience from the Bibblio platform.
Since then, Bibblio has removed the plugin to focus on its JavaScript and API tooling, which offer better results since they offer faster page loads and more customizable features at no extra cost.
How do you get started with Bibblio?
For WordPress users looking to enjoy Bibblio on their site, you can utilize Bibblio's Quick Start code​ for an easy plug-and-play installation. Those looking for a more custom integration can check out the ​API documentation​. Both methods are fully compatible with WordPress and give you access to additional features that were not available within the plugin. Get in touch with a member of the Bibblio team if you need assistance with the installation at no extra cost.
About Bibblio.
Bibblio is a full-service AI discovery platform that helps content owners increase engagement, diversify revenue and drive audiences without invasive and irrelevant adtech. Bibblio's content recommendation technology lets digital publishers and media businesses display their truly relevant content across their own sites.
This platform couldn't come at a more important moment. The days of relying solely on advertising are coming to an end, with forward-thinking content owners looking to diversify their revenues across subscription, ecommerce, sponsorship and more. These owners are using Bibblio to provide smarter ways to deliver value through their content and products, whilst gaining a better understanding of their audience.
Use Bibblio to create engagement and loyalty across your editorial, subscription, e-commerce and branded content mix. You can recirculate and personalize your content quickly and accurately to ensure the right user finds the right content across multiple touchpoints. Whether you're a B2B or B2C content owner, you can make deep connections with your audiences by using Bibblio.