What is Infinity Pro?
Infinity Pro is designed for brand elevation and style. The elegant feel and use of typography will help your business position itself as an industry leader with a feel of understated professionalism. With all of the options we've packed into Infinity Pro to customize your customer's experience, it's also one of the most flexible StudioPress theme releases to date. 100% compatible with WordPress' most popular ecommerce plugins WooCommerce and the new WordPress block editor (Gutenberg).
The theme demo showcases the many page and layout options of the theme including some of the classiest WooCommerce pages to come out of StudioPress. Check out the live demo and see how you can use Infinity Pro.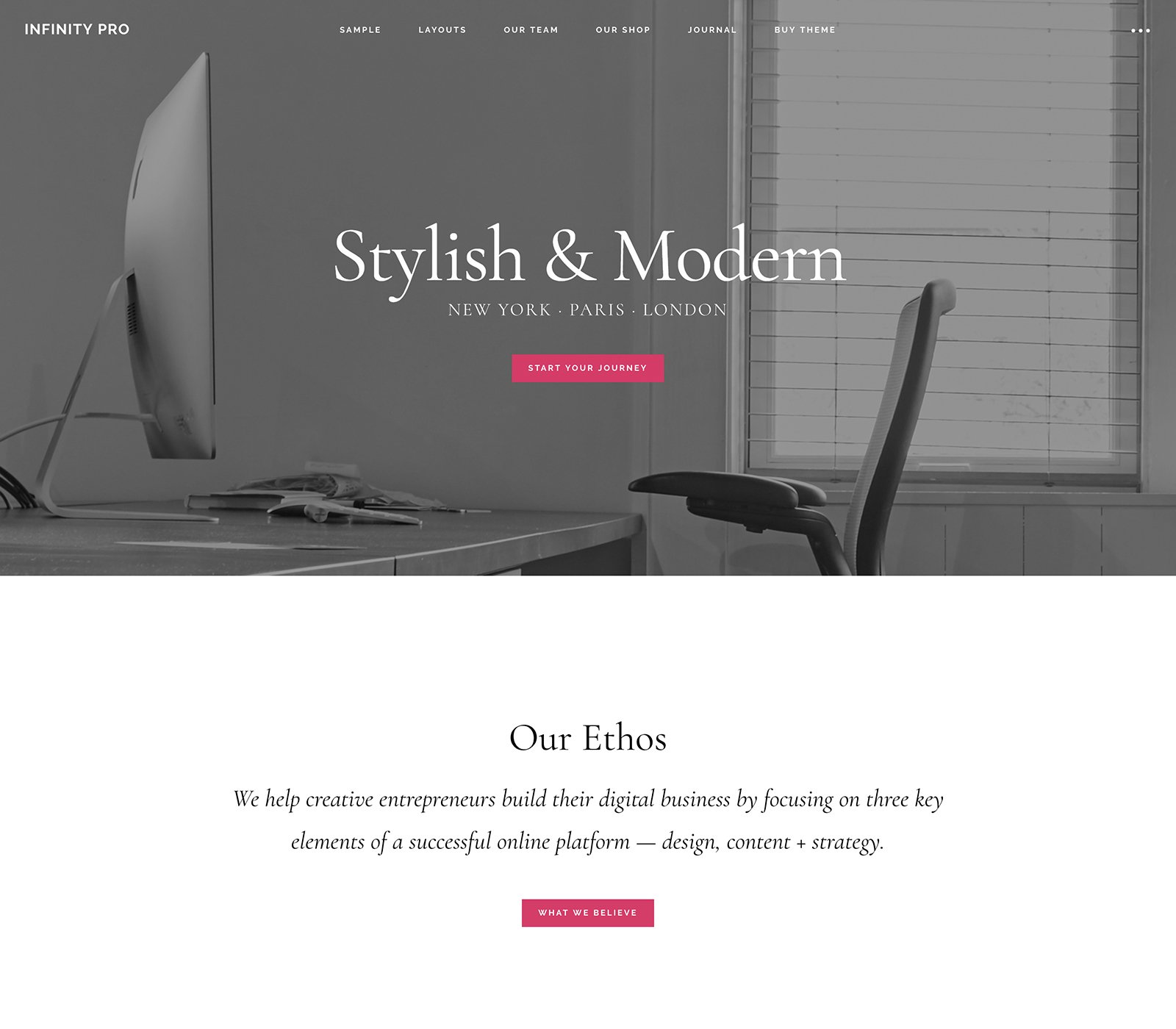 What are the features and benefits of Infinity Pro?
Advanced Gutenberg support
Accessibility ready
Mobile responsive
Theme customizer
Translation ready
eCommerce ready and pre-styled for WooCommerce
Build your site with 13 customizable widgets
The WP Engine Advantage.
When it comes to building amazing digital experiences, WordPress and specifically StudioPress Themes are utilized by designers and agencies all over the world to build beautiful and secure websites. Each theme is Gutenberg ready and SEO-optimized with locked down security features.
How do you get started with Infinity Pro?
Infinity Pro and all StudioPress themes are available free to WP Engine customers. If you are a current customer, getting started with Infinity Pro is quick and easy! Check out WP Engine's getting started guide. New customers can access Infinity Pro when you sign up for WP Engine or purchase Genesis Pro.
About WP Engine.
WP Engine is the WordPress Digital Experience Platform that gives companies of all sizes the agility, performance, intelligence, and integrations they need to drive their business forward faster. WP Engine's combination of tech innovation and an award-winning team of WordPress experts are trusted by more than 120,000 customers across 150 countries to provide counsel and support, helping brands create world-class digital experiences. Founded in 2010, WP Engine is headquartered in Austin, Texas, and has offices in Brisbane, Australia; Limerick, Ireland; London, England; Omaha, Neb.; San Antonio, Texas and San Francisco, Calif.