We're a nomadic creative studio that gets it done.
As creatives, we're doers by nature. We're not just thinkers, we're makers. Whether it's launching a brand, developing an ad campaign, crafting design or telling stories, we transform ideas into the tangible. We believe the creative process is a journey, and we're always up for a new adventure.
Featured portfolio items.
Startup VIrginia
Driving the Success of the Next Generation of Business Pioneers.
Startup Virginia is a nonprofit organization dedicated to building a long-term, sustainable economy for Virginia by nurturing high-growth businesses in a dynamic workspace. We were brought in with an aggressive timeline to build the brand from scratch – from logo and visual identity, to messaging, to website – to be unveiled at their grand opening.
The Mom Complex
Driving innovation for the world's biggest mom-focused companies.
The Mom Complex is a strategic consulting company that works with Fortune 500 companies to help them develop products, services and experiences that better connect with moms all over the world. Bridging power and femininity, we landed on a fresh, no-nonsense look for The Mom Complex to better represent their bold, innovative approach to brand research.
JFS Richmond
Transforming lives. Strengthening our community.
Jewish Family Services (JFS Richmond) is a nonprofit organization providing innovative, quality services that empower people through every stage of life. Despite serving the Greater Richmond area for over 165 years, many were unaware of their services. We revamped their branding, including a new responsive website, to bring them up to date and gain relevancy.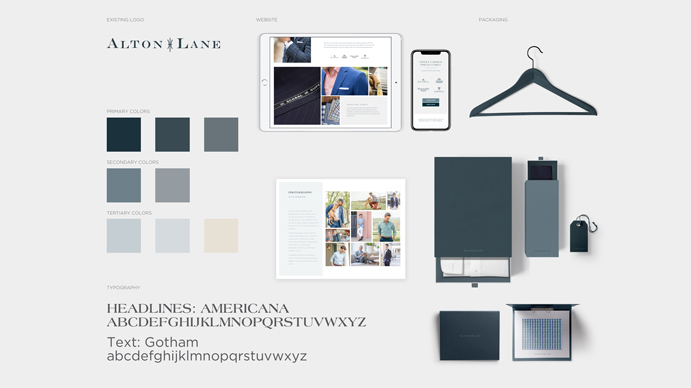 Alton Lane
The New Standard for Premium Custom Menswear.
Alton Lane is an American menswear company with a focus on exceptional fit, quality and value. As a business that's all about nuance and details, Alton Lane needed to apply the same level of attention to their branding. After a thorough immersion into the company, we developed a custom strategy to better define the brand, along with a style guide to ensure creative deliverables were properly executed.