Our job is to help you tell your story more powerfully, using our pillars of strategy, creativity, and results. We have experienced, brilliant team members on staff, here in our Ventura, California office, doing the work and helping you every step of the way. We're big enough to handle your project, but small enough that you won't get lost in the shuffle. You matter to us. If you're looking for expert help in branding, design, and web development, and don't want to get lost in a sea of hundreds of clients, put us to the test. Searle Creative's team has the creative skills, leading-edge technological capabilities, and strategic marketing know-how to deliver exceptional results for your business or organization.
Featured portfolio items.
Otto & Sons Nursery Website
This local grower is known throughout the Ventura County region and beyond for their sprawling inventory and customer centered educational events. With over 130,000 plants and over 700 varieties each year, and a beautiful picturesque setting.
This new, responsive WordPress website helps customers browse plant selections, add items to their wish list (WooCommerce), see upcoming educational events (Events Calendar Pro) from any device. Included in this build was a custom product sync to the existing inventory platform to show and hide available products on this site. This site also utilizes a modern drag and drop builder to make customer edits a breeze, our customers love it.
If you're in the mood for some fun… try out the rose filters on any category page, where you can sort by all kinds of helpful features like color, flower size, fragrance, height and more!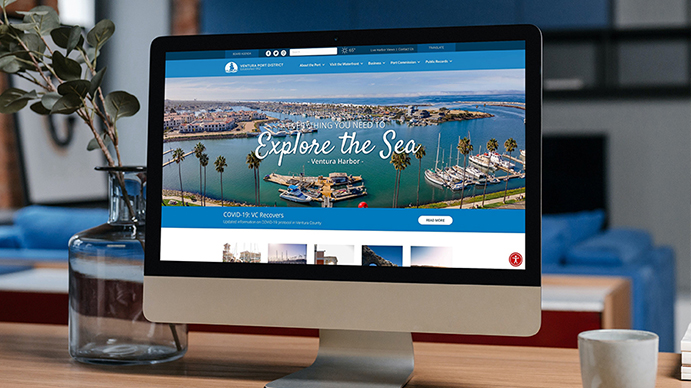 Ventura Harbor Website
The Ventura Harbor is a seaside destination, gateway to the Channel Islands National Park, and also home to commercial fishing vessels and multiple commercial tenants.
This website redesign was two-fold. The first purpose was to feature harbor beaches, launch ramps, fresh fish markets and more to the public. The second was as a highly functional working website – distributing important information essential to businesses and tenants, such as posting of board meeting minutes, news updates, document distribution and more. The navigation and UX of this site were planned carefully to ensure both audiences could easily and quickly find what they needed in a very minimal number of clicks, from any device.
This custom WordPress website is responsive, ADA compatible, and has several enhanced features such as a detailed interactive map, live harbor webcam, blog news feed, twitter feed, and live weather plugin.