Flower Press Creative Studio is an award-winning design studio based in Seattle, WA. Our team of product designers and engineers creates better websites, apps, and experiences by uncovering product insights. At Flower Press Creative Studio, we believe the websites should be beautiful and functional. Our user-centered design practices allow us to create compelling, easy-to-use websites that will improve customer engagement with your brand. Our WordPress sites are well-made and simple to manage. We leverage all the power of WordPress to create a well-designed content management system that affords flexibility as your brand grows.
Beautiful Custom Themes
Using our user-centered design process, we will create custom websites from the ground up. Your WordPress theme will reflect your product, services and brand like no other. Our approach ensures that your customers will find what they are looking for quickly and easily.
A WordPress CMS You'll Love to Use
We custom design the WordPress content management system to be straightforward, flexible and easy-to-use. The information architecture, and controls will be intuitive, making your website a delight to manage.
Stable, Secure Hosting
We work with client accounts on WP Engine, our preferred hosting partner for all our Wordpress based projects. The WP Engine platform is optimized for building and managing WordPress sites. Daily backups and managed core files keep your site secure and allow you to focus on innovation. Flower Press Creative Studio is a certified partner with WP Engine, and we can help design, build and launch your site seamlessly.
Featured portfolio items.
Hunley Group Website: Rebranding an established Salesforce consulting company
The Challenge The Hunley Group is an established Salesforce consulting firm with 10+ years building custom software solutions. Their clients include some of the world's largest construction, building products manufacturers, and architecture firms. The Hunley Group specializes in custom integrations and enhancements to Salesforce Platform and Salesforce Communities. Their team includes 45+ administrators, designers, and engineers focused on specing, designing, and building ideal workflow management tools. The company needed a new website and brand identity to communicate this value proposition and appeal to an increasingly diverse customer base.
The Outcome The updated Hunley Group brand is clean, bold, and bright. The colors are strong and commanding and marry well with Salesforce blue. We use colorful imagery, bold headlines, and modern iconography throughout the website and materials to communicate the firms' unique offerings. The website is built in WordPress, which offers a perfect mix of features for this marketing website and companion blog. With just a handful of pages and targeted content, the website has grown from a passive marketing vehicle to a useful lead generation tool.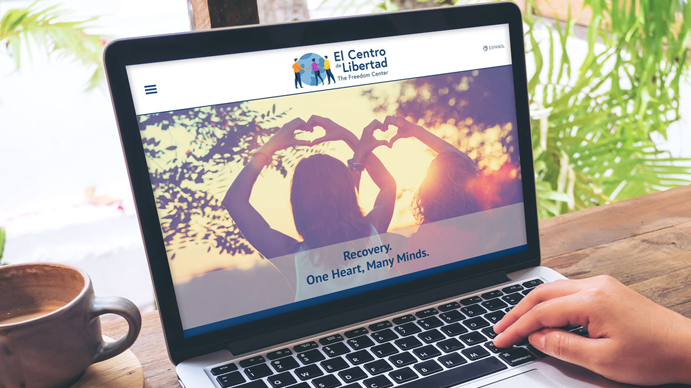 El Centro Website: Rebranding an award-winning addiction recovery center to make it more accessible
The Challenge Opioids, methamphetamines, alcohol - addiction to these substances represent a growing health crisis that destroys our communities. It impacts people in all walks of life, from all backgrounds. Addiction is tough to treat, and for people who come from poor, disadvantaged, and marginalized groups, it's even worse. El Centro de Libertad offers award-winning addiction recovery services in Redwood City, CA. Their program was established in 1994 to address the needs of the Hispanic community. Today, this community is increasingly hard to engage. El Centro needed a new brand and website to appeal to donors, government agencies, and the Hispanic community they serve.
The Outcome "Recovery, one heart, many minds;" the updated El Centro brand and website brings together the center's rich history with inspiration from people who have benefited from their services. The site is fully responsive, bi-lingual, modern, and clean. The site is built in WordPress for easy management. Clients can schedule appointments, post payments, and check-in with counselors. Donors can schedule contributions and learn about the impact of their donations over time. Overall the site is more accessible and easier to use and manage.
TurnThe.page Website: A Service to Help Potential Retirees Turn The Page
The Challenge Late career professionals are in trouble. As of last year nearly 9 million senior citizens were still working, more than twice as many as in the year 2000, per The Washington Post. Baby Boomers, more than any previous generation, have failed to plan adequately for retirement. An alarming 25% of retirees have saved less than $1000 for retirement according to the Employee Benefit Research Institutes 2017 Confidence Survey.
The Solution We worked with stakeholders to analyze offerings and found that products and services ranging from investments, protected growth and lifetime income to wealth transfer strategies could be classified and categorized. We were able to order offerings based on career position, assets and preferences in order to make personalized recommendations. We launched with a simple landing page asking late-career professionals to enter their age, retirement assets, and career position. Based on these demographics, relevant offerings can be presented. This approach is much more straightforward than trying to sift through large quantities of information. The result is a clear and effective path forward, toward retirement planning.
Geek Girl Careers: A Personalized Approach to Choosing the Perfect Tech Career
The Challenge About 74 percent of young girls express interest in STEM fields. However, women represent just 28 percent of computer science graduates, and 11 percent of executive leaders in Silicon Valley, and that number is in decline. In 2015, the founders of Jobs Nirvana, a technology workforce development platform, decided to take a look at the problem. Their international community of young, engineers and design professionals seemed like a good place to start. In examining their user data, Jobs Nirvana discovered that women were among their most active and dedicated users, though the population too was small. How could they help?
The Solution We moved the Personality Assessment utility front and center, up to the start of the registration process. Not only would this allow us to narrow down career options early, it would let us do it in a personalized way. After completing the Personality Assessment users are presented with valuable personality insights and suitable Career Roles to choose from. Once the user selects Career Roles of interest, Geek Girl Careers opens up a plethora of opportunities in that field.