Americaneagle.com is a full-service, global digital transformation agency that specializes in website design, development, hosting, and digital marketing. The Americaneagle.com team has the experience to drive success with WordPress projects of any size and scope. Our experts can help turn your vision into a digital reality through custom-built themes, purpose-built plugins, and 3rd party integrations to create a unified experience for your content authors and your customers. With a team of over 750+ professionals, Americaneagle.com
is a family-owned, privately held company with a long history of profitability and stability. Since 1995, Americaneagle.com has completed more than 12,000 projects for nearly every type and size of organization in nearly every industry.
Americaneagle.com is based in Des Plaines, Illinois, with offices throughout the USA and EMEA including Chicago, Cleveland, Dallas, Los Angeles, New York, Philadelphia, Ft. Lauderdale, Milwaukee, Nashville, Washington D.C., Bulgaria, Switzerland, the UAE, and the UK.
Featured portfolio items.
Smart Content Flow Leads Successful Platform Migration for John Bean Technologies
John Bean Technologies (JBT) Corporation is a leading global technology solutions provider to high-value segments of the food and beverage industry which also sells critical equipment and services to domestic and international air transportation customers through its AeroTech segment. JBT chose Americaneagle.com to partner in their migration from an existing Sitecore website to a WordPress site hosted on WP Engine to reduce license costs, and improve content management processes while also providing its global users a unique experience. An auto-translation tool for the site's English content was also requested.
The technical vision within the new WordPress solution provided a fully integrated multisite experience within a singularly branded website. For site users who had grown accustomed to the previous site's URL structure, navigation, and content, the new environment provided an intuitive, nearly unnoticeable transition. Behind the scenes, the site has shown marked improvement in Google Lighthouse performance scores and the JBT team is most impressed with the website's new publishing flow.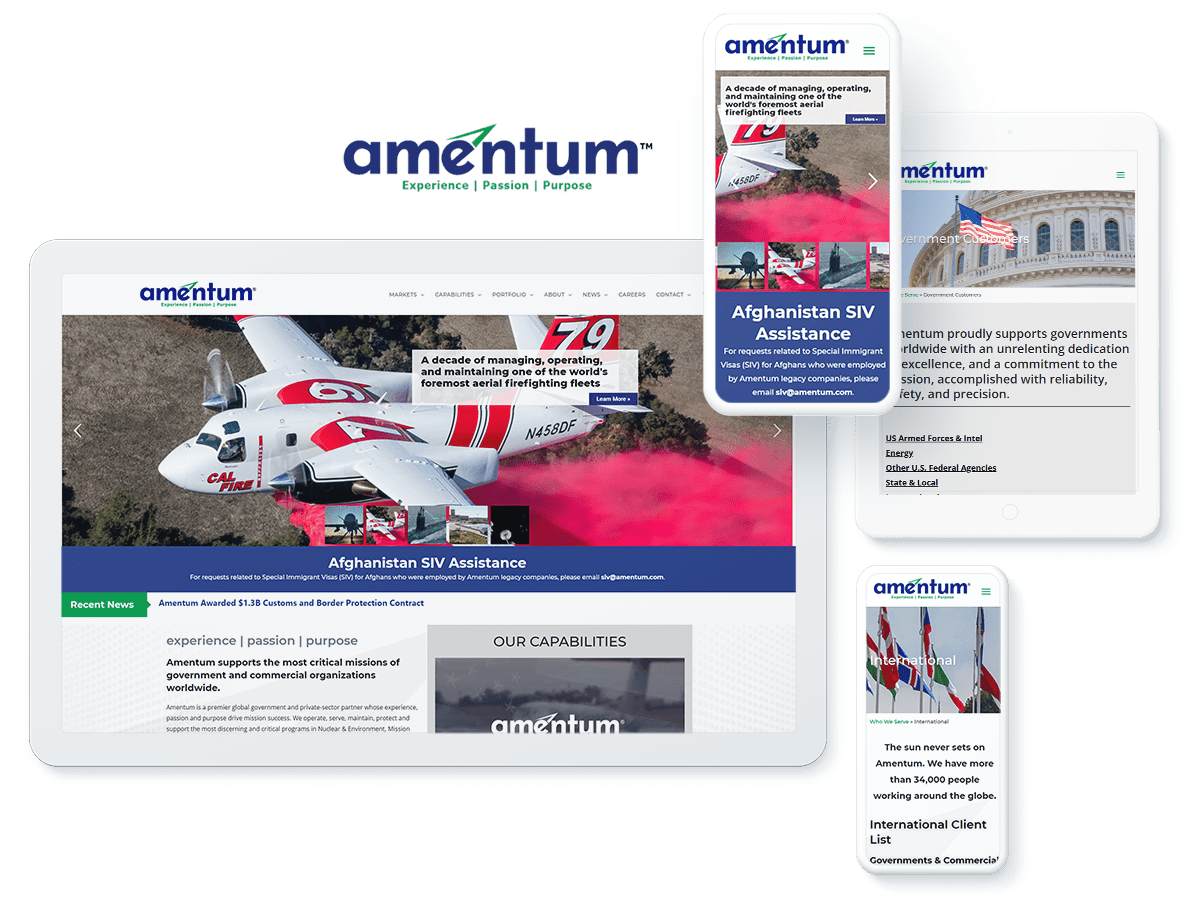 WordPress Re-Architecture Provides Flexible, Easy-to-Use Solution for Government Contractor
A premier global government and private-sector partner with over a century of experience, Amentum partnered with Americaneagle.com for a complete revamp of its existing WordPress website. On the front end, Americaneagle.com redesigned the appearance of the site using Elementor on WordPress. This created unified visuals across every page on the site, while also increasing user accessibility. Americaneagle.com also reconstructed Amentum's site behind the scenes to increase page speed and maintain the ability to scale the site alongside their business needs. The brand-new site is now faster, more agile, ADA compliant, and can be scaled without worry, completing a total digital transformation that will serve Amentum for years to come.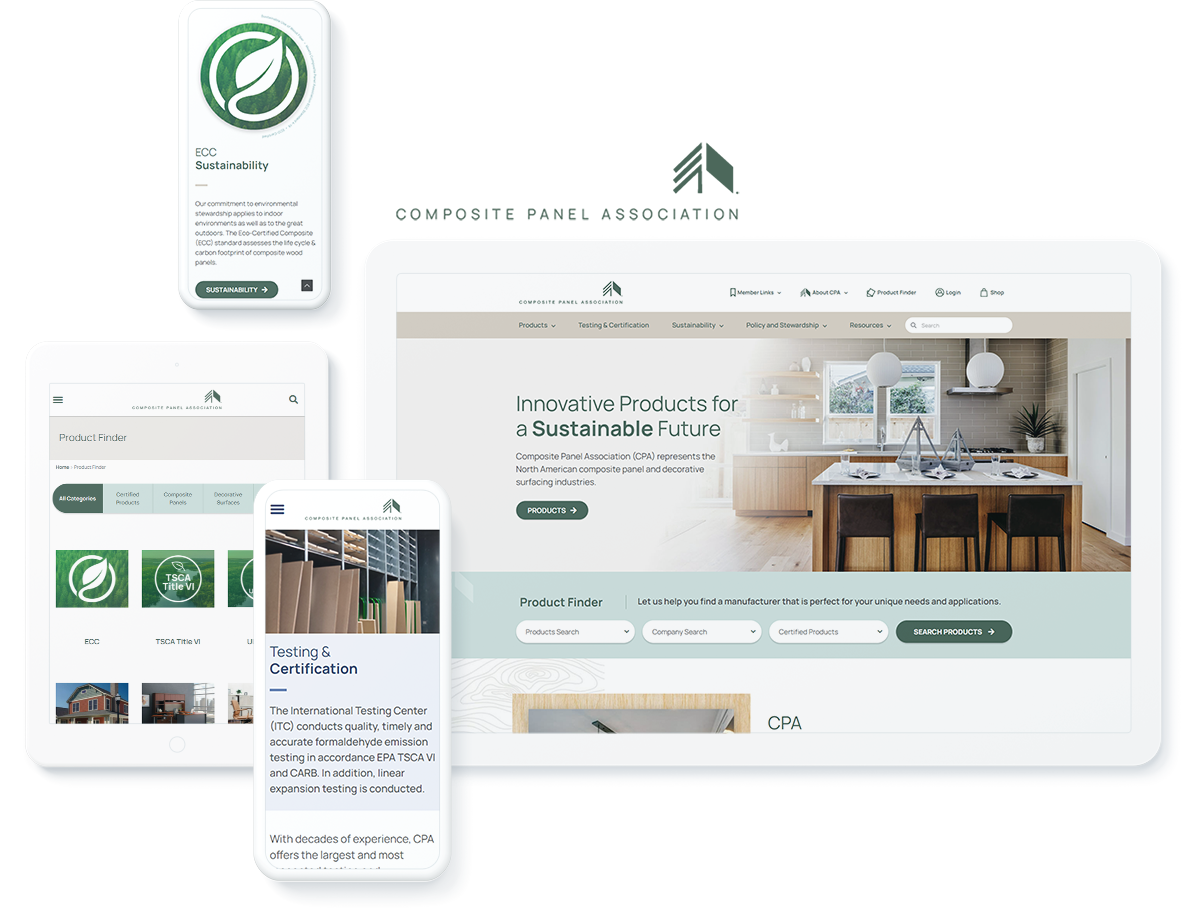 Membership, Their Products & the Association All Benefit from New Site's Capabilities
The Composite Panel Association (CPA), represents the North American composite panel industry on technical, regulatory, quality assurance, and product acceptance issues. CPA members include 30 of the leading manufacturers of particleboard, medium density fiberboard, and hardboard. Together, they represent more than 92% of the total manufacturing capacity in the US, Canada, and Mexico.
As a vital resource for both producers and users of industry products, CPA needed to prioritize updates to their website and content management system (CMS). Their existing solution, a custom CMS had grown old, outdated, needed significant developer support and provided the association with very limited database integration.
To enhance its overall website experience, CPA sought Americaneagle.com's expertise. A thorough and detailed discovery phase led to the complete rebuilding of the associations' web presence. Since partnering with Americaneagle.com on their new website solution, CPA has been able to internally manage membership, content, the product finder, and industry promotion with consistent success. Membership has appreciated a website that mirrors the elegance and sophistication of their products.