Box UK is a specialist enterprise WordPress and WooCommerce development consultancy, building large-scale digital platforms used by millions.
With a track record of success spanning more than two decades and hundreds of high-profile and mission-critical projects, we're proud to be a Strategic Partner agency for WPEngine.
Box UK has deep experience in creating scalable, resilient and high-transaction systems for clients across the globe, and has delivered numerous complex multilingual and multisite installations. We additionally have extensive expertise in integrating WordPress and WooCommerce with backoffice components such as ERP, tax engines, trade compliance and third-party logistics.
Working with international organisations across a broad range of industries, our team of WordPress developers, solution architects, UX consultants, system engineers and product owners has built up an impressive portfolio of successful and award-winning projects, and is perfectly positioned to unlock the full potential of this powerful platform.
To learn more about us and how we could support your project, visit https://www.boxuk.com/software-development/cms-implementation/wp-engine-solutions/ or get in touch below to arrange a call with the team.
Featured portfolio items.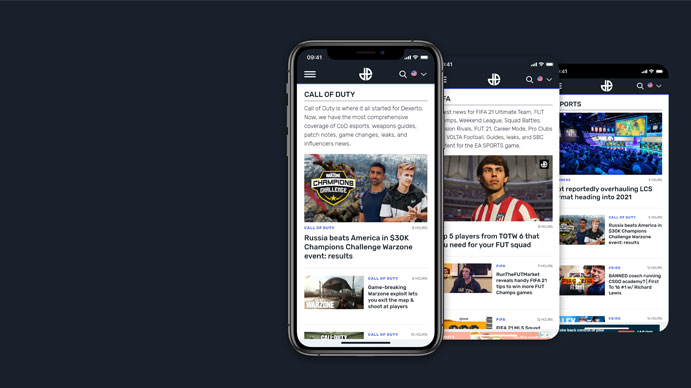 Dexerto
Beginning life as a community-driven gaming forum, Dexerto is now the outright market leader in esports media serving millions of website visitors every month.
To maintain their market position and guarantee the future growth of the business, Dexerto came to Box UK looking for support with a critically important re-platforming project - one that would not only provide a stable platform for the future but would significantly improve site performance in advance of Google's Core Web Vitals algorithm change.
Adapting existing agile processes to optimise development cadence for a speedy delivery, Box UK quickly delivered a robust, adaptable and scalable WPEngine solution for the client - with improved AMP support, customised for Dexerto's key advertising infrastructure. This platform now continues to be developed, in line with Dexerto's aspirations for the future.
"We were looking for an agile and performance-focused team and Box UK more than delivered... we have started to see growth within our traffic that's taking us to new peaks, and we are at all-time bests on some of our core performance-driven KPIs." - Elliot McDonagh, Head of Product, Dexerto
Read the full case study: https://www.boxuk.com/our-work/dexerto/
Ogi
As part of a major rebrand to establish the company within the South Wales market, Ogi required a new website that would effectively showcase the company and its offering, drive interest, engagement and sales, and deliver an exceptional experience for new and existing customers.
Ogi were looking for a partner that combined outstanding development capabilities with strong creative and technical User Experience & Design (UX&D) expertise, who could apply a deep knowledge of the product and market, and who shared Ogi's passion to deliver the project vision – and they found exactly what they needed in Box UK.
Working closely with the client and their brand agency, the Box UK team worked to a challenging timescale to deliver a high-performance, high-impact website to support the launch of the new Ogi brand.
"The partnership was one of collaboration and agility, with Box UK taking a proactive and positive approach to understand our target audience, the product, and the brand, and reflect this in the delivered website." - Mari Stevens, Chief Marketing Officer, Ogi
Find out more: https://www.boxuk.com/our-work/ogi/
The Pharmaceutical Journal
Combining technical expertise with an in-depth knowledge of WordPress, Box UK's developers designed and built an ecosystem to support the Pharmaceutical Journal's subscription-based model, while the involvement of User Experience and Design (UX&D) consultants from the outset ensured all content is easy to search, find and consume.
The PJ now has a powerful platform that supports the key aims of its users and of the business – and with full control over their future development roadmap, they're well-placed to continue to evolve their digital strategy to deliver further value through the platform.
"Our new digital platform built with Box UK gives us the tools we need to manage and deliver complex sets of editorial content in a simple and intuitive way." - Tony Scully, Publisher, The Pharmaceutical Journal
Find out more: https://www.boxuk.com/our-work/the-pharmaceutical-journal/