Founded in 2001 in Denver (Colorado, USA), Apoorva is a technology specialist catering to Small and Medium Enterprises (SMEs) for streamlining their processes to increase revenue and maximizing their technology investments through systems integration.
We utilize technology platforms such as WordPress, CRM, eCommerce, Digital Marketing, and Search Engine Optimization in a cost-effective way using on-shore and off-shore teams.
We are 55 employee company, delivering tailor-made websites and eCommerce platforms that integrate with accounting systems, payment gateways, CRM systems, ERP systems, Inventory management systems, Document Management systems, and Digital Marketing systems for email and SMS communications.
Featured portfolio items.
Beaver Valley Supply - Farm Equipment eCommerce Platform
Atwood, Kansas-based Farm Equipment distributor Beaver Valley Supply serving local farmers since 1940, needed a website that could handle high-volume traffic and more than 7,000 distinct items for farmers within a 200-mile radius.
Their unique value proposition is a near real-time purchasing experience for their dealer network utilizing the rich database they built over the years. To do so, Apoorva connected their Microsoft Great Plains software hosted in their offices, synchronized that data with a centralized database in the cloud, and then ported all the farm equipment details and pictures to WordPress in a near-real-time every 30 minutes.
Apoorva also migrated Beaver Valley Supply's existing website with the content and has continued to support and maintain the new eCommerce platform for more than the past four years.
SkiTrucks - Online Ski & Board Shop Programming
SkiTrucks has been a family-owned business for over 50 years based in Salt Lake City. This Ski & Board Shop has more than 200,000 items with on-premise and online shops.
Their unique value proposition is to offer a variety of brand-new snow sports equipment from previous seasons at below the market price. To do so, they constantly bring in new but low-quantity items that need to be entered into an inventory system and monitored closely when they are sold through any channel.
Apoorva automated their inventory database with sales from their in-store Point Of Sale (POS) system, online WordPress WooCommerce Platform, and other channels such as eBay and social media. Additionally, Apoorva integrated sales from all these channels into their QuickBooks online accounting system for integrated analytics.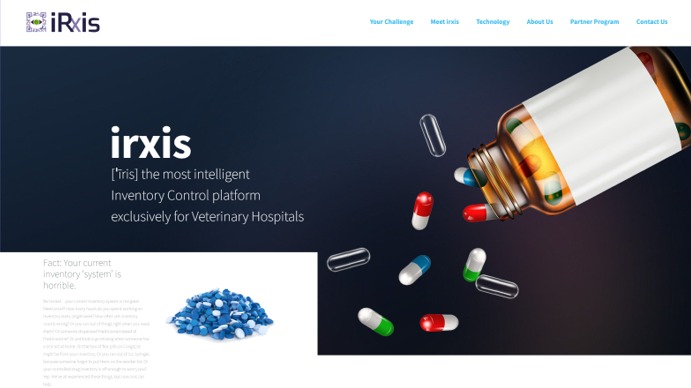 iRxis - Weight based Inventory Detection and Management Platform
iRxis created an inventory management and control system for veterinary clinics. After the family owned and managed multiple veterinary hospitals, they learned the painful lesson that inventory is a higher-risk asset than cash.
Apoorva developed an inventory management platform that connects a weight machine to the database of medication to determine the number of pills being dispensed using a web application and backed relational database. In addition to the web application, Apoorva developed the website on the WordPress platform and hosted it on WPEngine.
Integrating the web application is a crucial component for the dynamic reordering of the medicine that falls below the stock levels. And adding new items for each clinic is made simpler by utilizing formulas that combine the weight of the bottle and the weight of each pill per manufacturer database.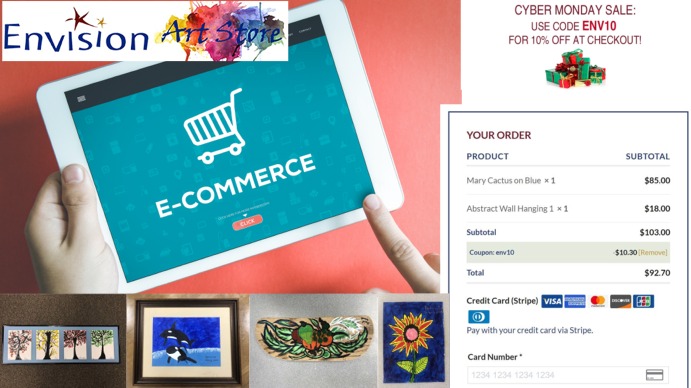 Envision - Non-Profit Online Auction and Store Platform
Envision provides creative support for people with Developmental Disabilities. Envision's team organized an event to create art for their constituents. Karen (Farley) Wainscott from Envision approached Apoorva for "ideation" and "development" of their Art Store. Additionally, Envision needed this online store to go live within three weeks.
The Apoorva team worked with Envision team to understand the volume of the items, their categorization, payment gateway details, and the look-and-feel requirements. By pulling together quick resources from Apoorva's technology pool, the team worked in a close collaborative approach and created an eCommerce store within 10 business days using the prices and images obtained from Karen (Farle) Wainscott.
The Art Store is developed on WordPress open-source platform and utilizes WooCommerce components. From start to finish, the Apoorva team finished the work in less than 60 hours of effort, while Envision team helped with the payment gateway setup, image categorization, etc.