CMYK is a Brooklyn based, full service digital studio. We specialize in working with organizations on various aspects of their marketing needs from brand development, building digital platforms and content creation.
Featured portfolio items.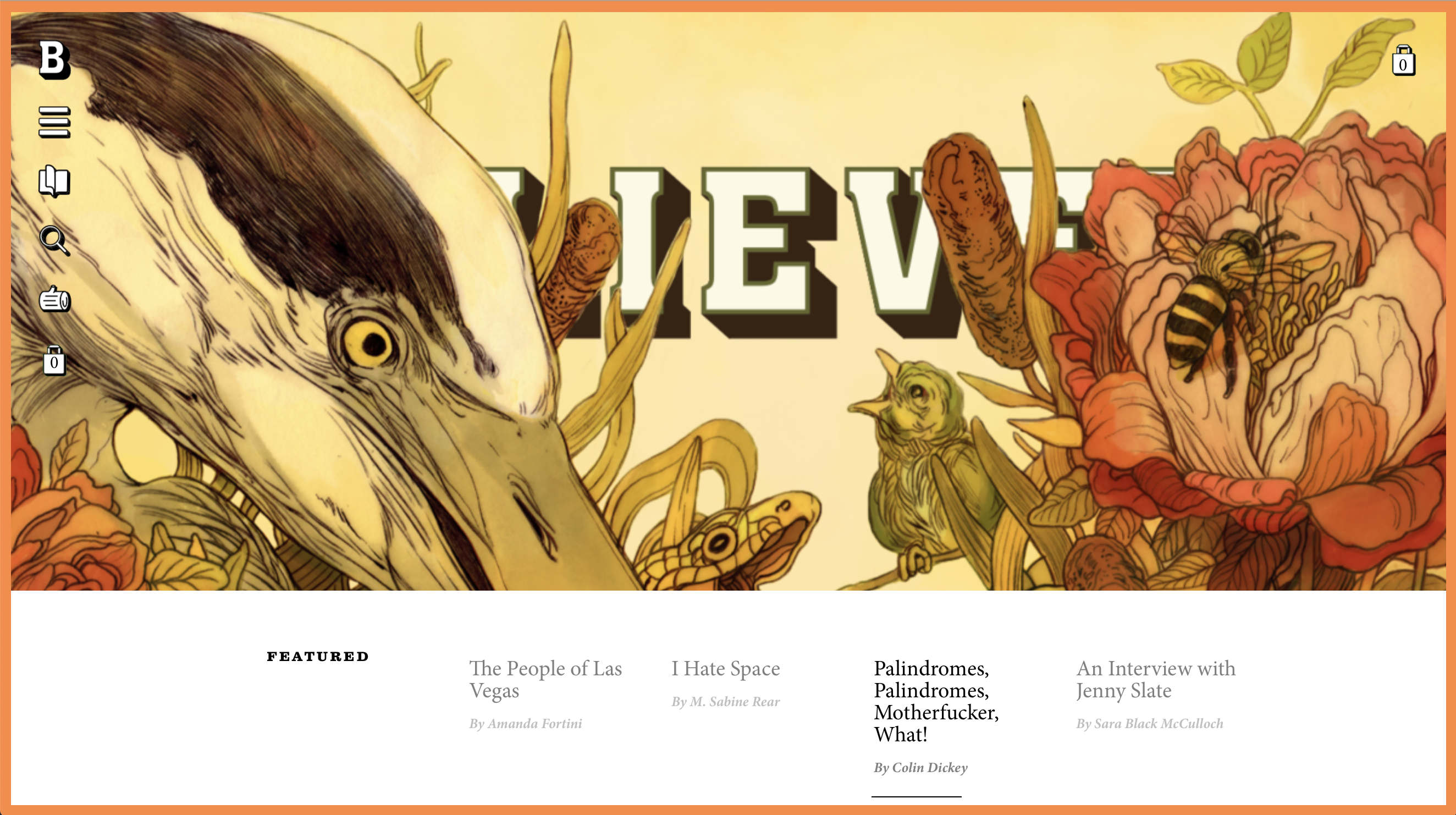 Believer Magazine
Believer Magazine is an award winning literary magazine, celebrating over ten years of publishing. Their exceptional content, celebrated writers and evocative illustrations have made it one of the most well known publications in the literary community. Before engaging with CMYK their online platform was a static HTML website where all content was hard coded. We built them a custom online editorial platform for them to showcase their entire archive of content to a much wider audience.
In order to achieve this we built a custom import structure that crawled through over 5,000 pieces of HTML content in order to migrate it into the new CMS. The streamlined and automated process was able to standardize the article structure, without the heavy lifting of editing each piece of content individually. Additionally, we build a robust custom content library to allow the editorial team to create dynamic and visually compelling content. The challenge was to create a design that embraced the physical form of the print magazine. We took a lot of design cues from the magazine's layout to create a reading experience that felt special. We also gave the team the ability to change the entire color scheme of the website with the release of each new issue. By doing this, the site always matches the newest publications cover art and changes the overall aesthetic with the click of a button.
https://believermag.com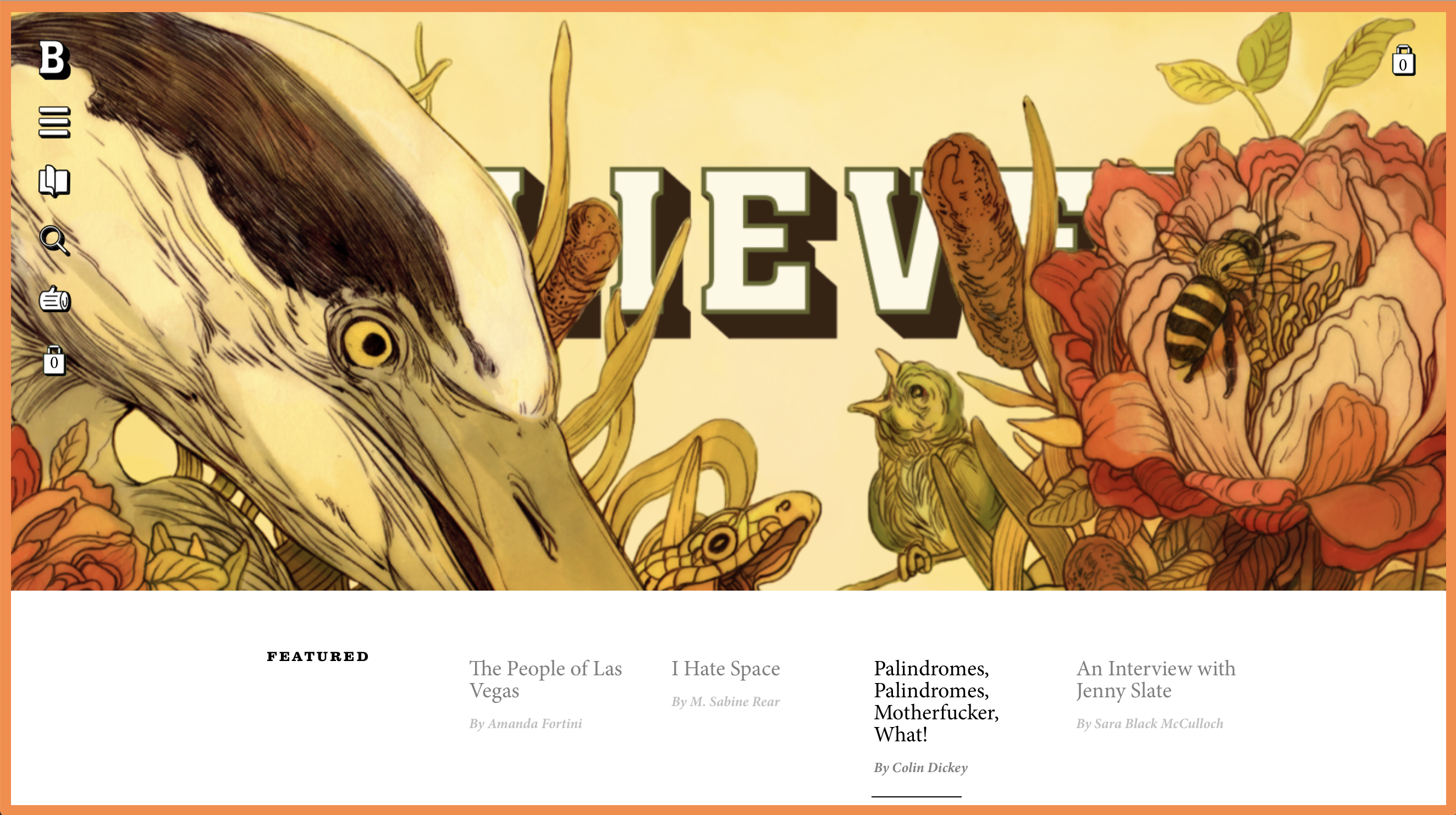 Mercado Little Spain
Mercado Little Spain in the newest venture from renowned chef, entrepreneur, and philanthropist José Andrés, and his first ever in CMYK's hometown of New York City. Andrés has restaurants all across the globe and is well-known for his charitable work throughout Latin America, Africa, and the United States, and so we made sure to provide him with our warmest of welcomes—that is, a beautifully designed website, of course! Comprised of more than 35,000 square feet of indoor and outdoor space in the newly constructed Hudson Yards neighborhood of Manhattan, Mercado Little Spain is a food hall unlike any other, with numerous restaurants, bars, and a sprawling marketplace that all focus on the unique culinary history of Spain, jamón and all.
Andrés' ThinkFoodGroup came to us with a massive amount of design collateral, including unique logos and brand guidelines for each individual restaurant and bar, stylized design elements reminiscent of Moorish tile, and fonts and typeface, and asked us to coalesce these varied pieces into an approachable and beautiful whole. Partnering with the fabulous team at BentoBox—a new content management system that specializes in restaurant websites and content—CMYK took these patterns, signs, and colors and used them to evoke the style and passion Andrés' project, so that the digital home for Mercado Little Spain truly becomes an extension of its physical space.
Realizing that the website would also serve as a visitors' guide for the marketplace, we also designed and developed a fully interactive map for people to both plan their trips from home and guide themselves within the hall using their mobile devices. And finally, as with all our web projects, we also made a point of designing and developing in full compliance with ADA rules and regulations, so that the site is user-friendly and accessible to all. That's just the CMYK way!
https://www.littlespain.com
Times Review
Consisting of The Suffolk Times, Riverhead News-Review, and Shelter Island Reporter news properties, the Times Review Media Group is the proud steward of a tradition of regional journalistic excellence that stretches from 1857 to modern times.
As part of their mission to provide quality news media to the communities of the North Fork on Long Island, the Times Review partnered with CMYK to bring their web platforms up-to-date, making them more responsive to a changing user base (and screen size), better and more holistically designed, and easier for their editors and administrators to maintain and keep updated throughout the day.
Aside from a new look-and-feel for the sites, we prioritized developing an updated ad strategy that allowed for a dramatic increase in available inventory for their sales team to book against and consolidating the back-end for each site into a single WordPress multi-site account, allowing editors to move seamlessly throughout all properties to post and edit content. Finally, in order to ensure that the many years of historical content was not lost in the transition, we also devised a way to import the full digital archives available from the previous sites, thus maintaining the papers' records for many years past.
https://suffolktimes.timesreview.com https://riverheadnewsreview.timesreview.com https://shelterislandreporter.timesreview.com