ExpandTheRoom (ETR) is an award-winning WordPress design, development, and marketing agency. We place quality above all else.
We look for purpose in each decision we make and every solution we create by following Purpose-Driven Design, our philosophy and the framework we use to solve design challenges.
From large-scale websites and mobile apps to video, custom product development, and digital marketing, ETR has been purpose-built to ship products on time and deliver results that will change your business for the better. We'd love to hear from you if you're ready to bring something great to life.
Featured portfolio items.
VNS Health: Website Redesign
This redesign project actually built upon work ETR did for VNSNY back in 2016 when we helped them bring three separate websites into one. This time around, the organization completely rebranded as VNS Health and they restructured their business offering. The new website needed to align from a user experience perspective with the organization's renewed focus on the customer. In addition, content also needed to be completely overhauled. This was no small feat due to the large volume of content and the evolution of the overall messaging strategy and site architecture. Post-launch data is still coming in, but the organization is already seeing an increase in online referral forms and improvement in overall content findability as measured by pre-and-post launch navigation usability testing.
Selligent: Website Re-Platform
Founded in Belgium in 1990, Selligent is an intelligent omnichannel marketing cloud platform. Selligent called upon ExpandTheRoom to build their re-branded website. In addition, they needed to transition from Drupal to the WordPress platform as part of their initiative to standardize and improve operations. Finally, ETR also oversaw the flawless migration of thousands of pages of existing content in six languages. With its elegant new design, improved performance, and flexible backend, the new Selligent website sets the stage for the company's growth for many years to come.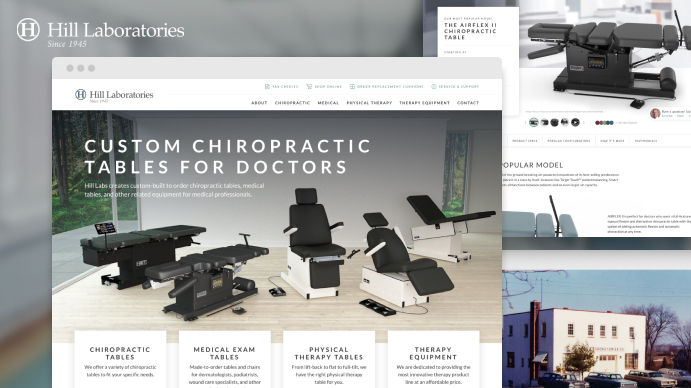 Hill Laboratories: Website Redesign, Ecommerce, and Digital Transformation
Hill Laboratories manufactures state-of-art customizable chiropractic and medical tables. While the quality and features of their products had continued to grow, the brand's online digital experience had not kept pace. It was clear that the Hill Labs website needed to be more than just an online catalog. A complete redesign and UX/UI overhaul was needed to better reflect their quality products and the warm, customer-centric focus of the company. A key growth factor for Hill Labs is to sell direct-to-consumer, which created the need for a new e-commerce solution and configuration tool that allowed for the 360º view of all tables, the ability to customize colors, add and remove features, save quotes, and check-out online through a standard payment and shipping process. The website has generated a 5X increase in web orders and 38% growth in web revenue.
Invest Puerto Rico: Website Redesign and Build
ExpandTheRoom was hired by economic development organization Invest Puerto Rico to relaunch their website as a focal point for the group's global marketing, communications, and lead-generation activities. ETR's engagement began with a competitive analysis of the economic development digital landscape. Our strategists examined who's competing for investment and the attention of these companies that are looking to make a move, and how they are leveraging their websites to drive awareness and capture leads. We recommended a re-platform of the existing Webflow site to WordPress to take advantage of a highly customizable system with strong third-party integration capability including Salesforce, live chat functionality, and comprehensive analytics. Because InvestPR is seeking investment from a global audience, we also internationalized the site so that it will be available in English, Spanish, German, and Mandarin – with the potential to expand to more languages. The site has boasted a 167% increase in visitors from organic search and a 13% increase in visit duration.