Kanopi Studios designs, builds, and supports websites for clients who want to make a positive impact.
We specialize in data-driven, intelligent solutions, creating clean, modern, and user-focused sites that ensure your visitors build a lasting connection with your brand. We are a fully distributed team that hires the best and brightest web design and development talent across North America, but our heart and soul (and many of our staff) are in San Francisco and the state of California.
Featured portfolio items.
Physicians for Human Rights (PHR)
In 1986, Physicians for Human Rights (PHR) was founded on the idea that physicians, scientists, and other health professionals possess unique skills that lend significant credibility to the investigation and documentation of mass atrocities and human rights abuses. While PHR was striving to advocate for others around the world, their website was worlds behind. It was not responsive, the CMS was nearing end of life, and had no flexibility to accommodate either large amounts of content or complex layouts. PHR needed a scalable, sophisticated experience that would look great on any device and be supportive of their varied content.
Working with a design partner who completed the discovery and design, Kanopi implemented the strategy work in development. We created functional requirements out of the designs, and chose WordPress as the new CMS. The designs brought the visuals up to date, and improved the user experience by creating layouts that met their high-volume content needs. Using Gutenberg, Kanopi was able to translate those seemingly simple designs into the complex functionality and content strategy needed, resulting in a more sophisticated and versatile system for editors, and an improved experience for site visitors.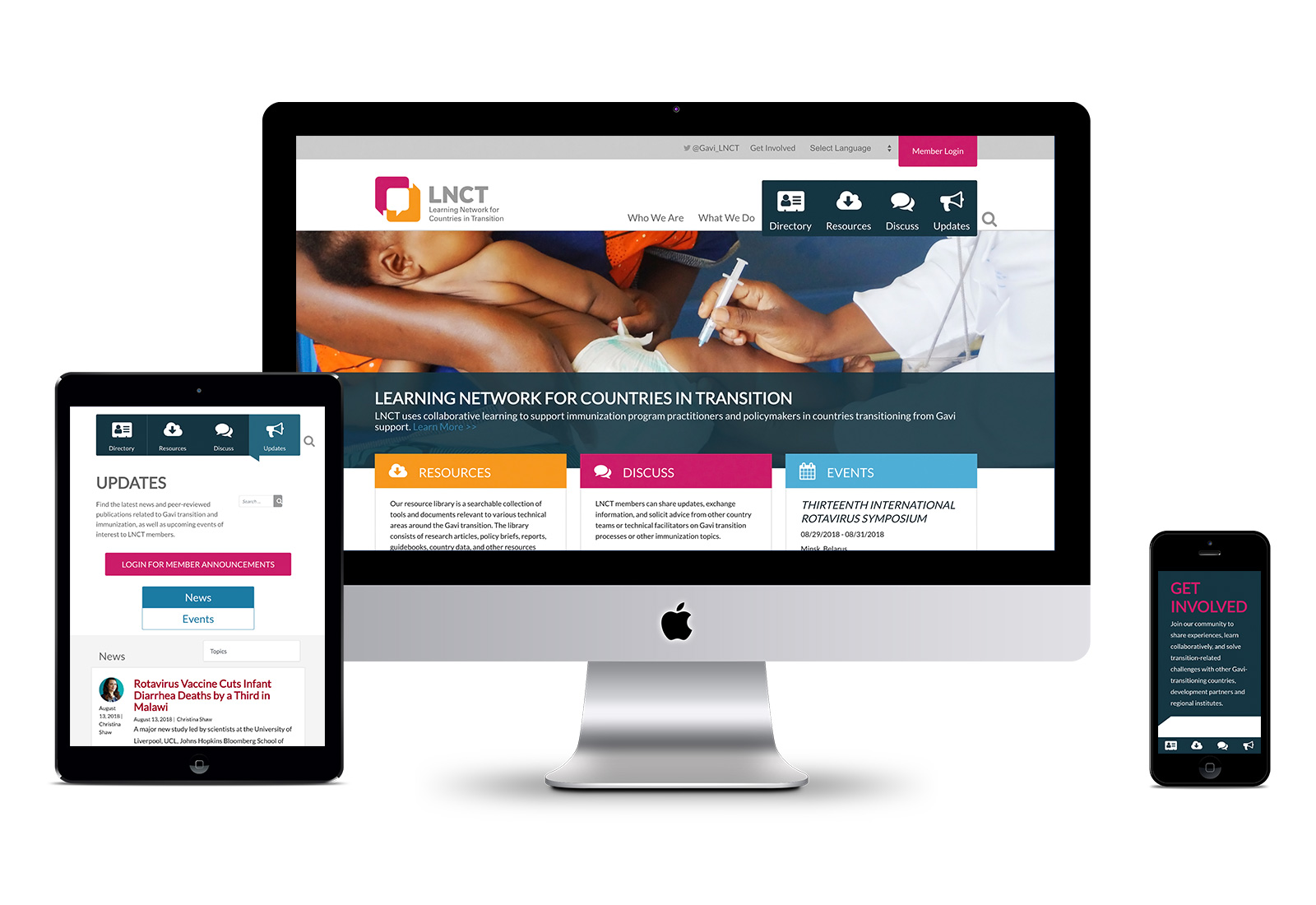 Learning Network for Countries in Transition (LNCT)
LNCT fosters a network for immunization program practitioners and policymakers in countries transitioning from Gavi support, a vaccine alliance that provides support to countries in a variety of forms as they transition to superior healthcare practices.
The online presence features a mix of public-facing and members-only access to discussion forums, resources and upcoming events. The site is information-rich with a sophisticated tagging system to allow users to filter by topics, document types and country-specific information. The collaborative nature allows members to join the conversation and continue to grow the resources available to the network.
The result: LNCT experienced a 252% increase in site users over the past three months — serving critical information to aid them in transitioning away from Gavi support. They also experienced a 177% increase with forum content — with users both reading and posting solutions in conjunction with their peers.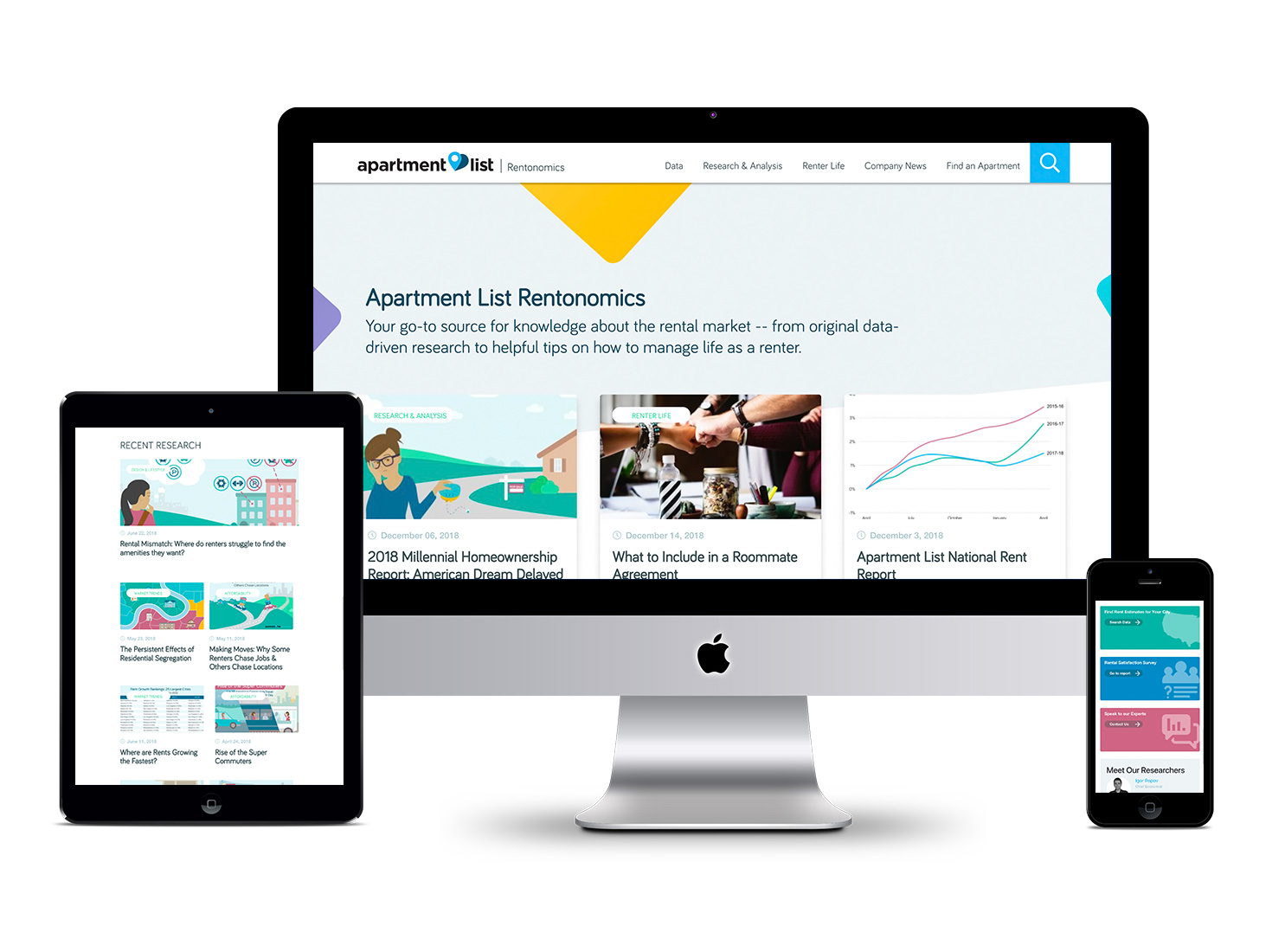 Rentonomics by Apartment List
Apartment List is an online database to help individuals find the place they will call home.
Not only do to they provide a simple and delightful experience to find an apartment, they are also a go-to source for knowledge about the rental market. Their data is originally curated by experts at Apartment list driven to provide helpful tips on how to manage life as a renter.
Kanopi specialists partnered with Apartment List Rentonomics experts to align this information-rich experience with it's parent Apartment List site and provide interactive paths to download and explore its content. Integrating with apartment results, their audience is able to easily switch between information gathering and learning about the rental markets they are interested in, into searching for an apartment in that area.