Based on three key pillars, our methodology includes Design, Functionality, and Security. As we create our designs from the ground up, the pillars intertwine, allowing us to deliver a website tailored specifically for you. Each WordPress site is customized with ease-of-use in mind, providing you complete control over your website.
We also have the future of your website in mind. After we launch, we'll maintain it with the utmost security and care, making sure you stay open for business, always.
Think of your website as an extension of your culture and personality, as if your customers were interacting with you and your team.
When customers experience your website they will get a complete picture of who you are and how your business will help them. This attention to detail helps attract the right audience for your business, ultimately converting your ideal prospects into delighted customers.
As we build your customized website, our approach ensures efficiency and clarity through our fine-tuned processes that have grown and evolved since 2008.
We break it all down into digestible, bite-sized pieces so you can make decisions confidently. Collaboration removes any overwhelm from an otherwise complicated experience to keep your project moving forward with weekly check-ins and accountability on both ends.
Featured portfolio items.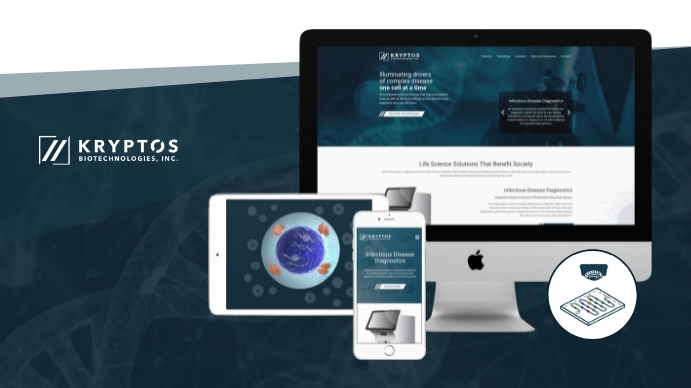 Kryptos Biotechnologies
Kryptos Technologies, Inc is a group of leaders in innovative and transformative life sciences through proprietary technology and life science systems that benefit society, one cell at a time. They have deep scientific expertise and a passion for improving the quality of care and human health.
Jinyong Lee, the co-founder of Kryptos, came to Smack Happy to help him create a custom website design that represented the current state of the company, providing enough information about projects to explain the technology and concept at a high level to intrigue a variety of visitors.
We worked very closely with Jinyong on the content, as we always want to ensure that the content we deliver for our clients not only makes sense for their business but also makes sense for their target audience(s) as well. And this content was tough! We really immersed ourselves into their amazing technologies – leaving no stone unturned. We also designed custom illustrations, infographics, icons. In addition to precision branding, well-researched content, and a beautiful overall aesthetic – we really made sure that every little detail was accounted for.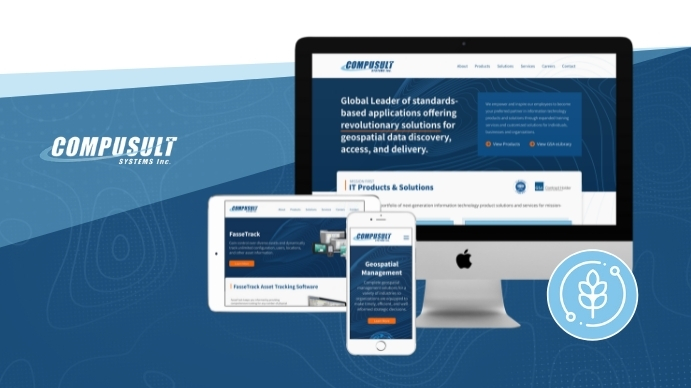 Compusult Systems Inc
Compusult Systems Inc (CSI) is an IT Services company providing software development, systems engineering, systems integration, and operations support. While currently supporting the parent company, Compusult Limited, they were looking to expand. Compusult is an international leader in standards-based applications that offer revolutionary solutions for geospatial data discovery and intelligence, access, and delivery for mission-critical operations.
Michael Kennedy, President of CSI, was referred to us by one of our best clients to help create a custom website design with an updated look and feel that complimented the parent company's website and brand. We also worked closely with Michael to develop refined website copy that brought its personality onto the website and expanded upon the depth of the company's IT Professional Products and Services.
In the final phases of the project, we implemented a number of responsive and adaptive modular solutions. Utilizing Beaver Builder, we continued with an overall theme that showcased high-end professionalism neatly packaged with a modern flare.
GSDSolutions
GSDSolutions provides a wide range of IT Support Services within the Bay Area. They help keep all of your data secure with a wide range of services that include ongoing IT Tech Support, Data Security Solutions, and Virtual Event Management. Danny and Scott came to Smack Happy looking for a website that fully represented their brand and the services they provide. Danny felt as if the old design was simply a bookmark that wasn't leading to conversions or new business. Our task was to create a modern and clean website that attracted leads that convert and lead to overall business growth.
The result is a fully redesigned marketing site that is easier for prospects to contact GSDSolutions for all of their IT Support Service needs. Danny and Scott now have a website that they are not only proud of but one that represents who they are as a thought leader in the IT Service Industry.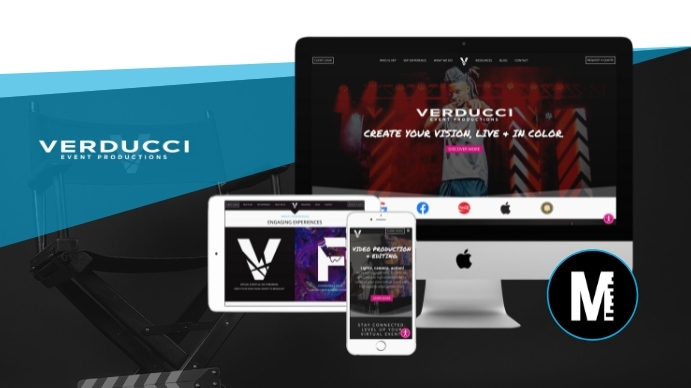 Verducci Event Productions
Verducci Event Productions, an event entertainment and video production company, needed help with their overall branding and turned to Smack Happy to partner with them in order to take their business to the next level.
In light of the challenges 2020 presented, Verducci Event Productions decided to pivot and take their business to a new level with virtual and hybrid events, moving away from in-person event productions and toward higher-end video production, live broadcasts, and streaming. They wanted to update their website to highlight them as a Live Streaming/Broadcasting and Video Production Company. Also, they needed a presentation with a true WOW factor to present to big companies moving forward.
Our team put in a lot of work for this project, and is happy to have done so! We resonate with Andrew Verducci and his company because he just wants to make people happy – and while it's a business, he truly believes in their mission and vision. It's an amazing thing to see him succeed and support their company in the process. We completed the project pieces at a time, so the site could be kept live while they worked.