Beth Hood began Websites with Aloha 10 years ago with the passion to give other entrepreneurs the freedom and flexibility to manage their websites themselves. Today Websites with Aloha has launched hundreds of websites across the Hawaiian islands and on the US mainland which help small business owners and nonprofit organizations make a unique impact on the world. "What I love about being a web designer is that I can create a dream into existence in a few thousand clicks."
We adore Genesis, and have been building in that framework since we began. All our sites are mobile-friendly and ADA web-accessible. Our mission is to create beautiful websites that are people-friendly.
Featured portfolio items.
Accelerated Health Products
Sara Banta is a business owner "on fire". She is the founder of Accelerated Health Products, a company that offers an increasingly popular line of health and nutrition supplements. Sara began with us over 6 years ago with a simple site and just a few products and now is not only featured on a number of prominent podcasts but has her own podcast. We have redesigned the site three times, the latest redesign was to rebrand Sara as the face of the brand.
The site is on Digital Pro and uses Woocommerce to manage over two hundred products with a significant number of e-commerce add-ons to control special functions like an affiliate network. The site also uses Essential Grid to make the library of blog posts, interviews, videos, and podcasts easily accessible and searchable. We have recently moved the site to WPEngine. We manage this site on a daily basis, adding blog posts and product changes for this client.
Here's a testimonial from Sara Banta:
"I have been working with Websites with Aloha for five years and have only been pleasantly surprised as they have surpassed my expectations every step of the way. I had heard horror stories about other companies from others, and was in uncharted territory as I had never had a website before. My business was very small in the beginning. As the process began, my vision was quickly and seamlessly executed by Beth and Amy. And, as my business has grown, they have grown with me. Not only have they given my website the tools it needed to expand, but they have been instrumental in the growth and become more involved with the daily tasks that need to be done. I couldn't imagine my business growing as quickly as it did without them!"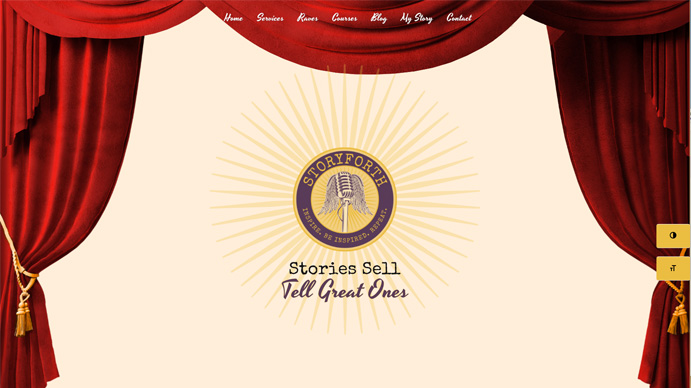 Storyforth
Laura Reid brings an amazing combination of passion, creativity and entrepreneurial experience to the launch of her new start-up Storyforth. As a coach herself, Laura was highly motivated to launch her site quickly and she came to us with a clear vision for her website and her business, which made it easy to pull together something that truly expressed her unique brand.
The site was highly customized but built on Genesis's Infinity Pro. We used Slider Revolution to create a few special effects on the home and top of the inside pages.
Here's a testimonial from Laura Reid:
"When I began working with Beth and her team at Websites with Aloha it was clear I would be receiving a high quality website. Right from our very first meeting, they were professional, efficient and fun to work with. Through out the process the communication was exceptional.
What I was not expecting was to so COMPLETELY BLOWN AWAY by the final site. Somehow they were able to not only create a stunning site, they also captured the "essence" of my business and even my personality in creative ways that I could not have begun to imagine. I was floored. Additionally, they went above and beyond — adding in really neat effects and details that truly make my new site have a unique impact! Even though the site ended up including some more complex elements, they still launched it on the exact date we planned for and it was simply perfect.
I love that I will be able to make simple changes easily myself, but also have continued support from the team as needed. I am starting off my new business with so much more confidence and pride because of Websites with Aloha!"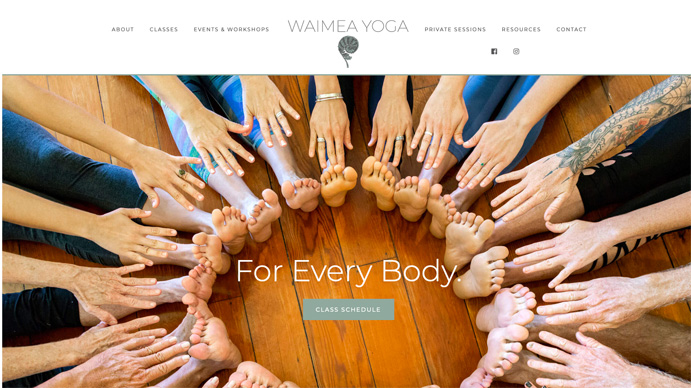 Waimea Yoga
Waimea Yoga is a dream come true for owner Chelsea Morriss who since high school has envisioned opening a wellness space in her hometown of Waimea. The site is built in Refined Pro and it uses Event Calendar as well as an integration with MindBody, an online platform for scheduling and booking yoga classes.
Here's a testimonial from Chelsea Morriss:
"Working with Beth has been such an easy, fun, creative process. I had a short time frame to get my website completed and she made it happen! Her creative touch and expertise have given me a beautiful, simple, easy to navigate website that captures the vision of my business wonderfully. Anytime I have a question or need to change something, she is there for me. I highly recommend working with Beth and her team to create the website that will help your business to shine and grow just like you envision."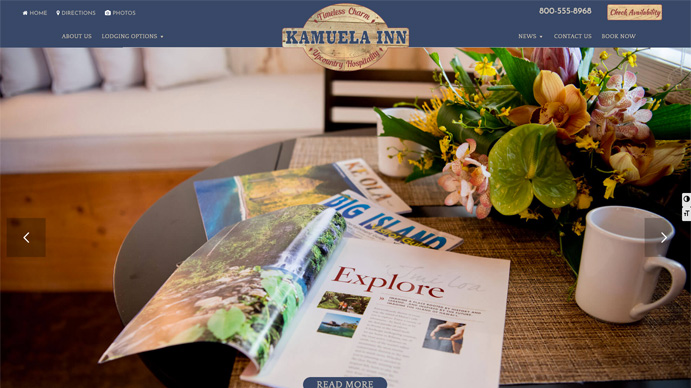 The Kamuela Inn
The Kamuela Inn is a historic 30-room destination boutique hotel nestled in the beautiful hills of Waimea on Hawaii's Big Island. They previously had a site designed in WordPress which was completely overhauled as the inn had undergone new management and new branding. The site is built in the Elegance Theme with some significant customizations. The site uses Slider Revolution and integrates with ThinkReservations, an online booking calendar for hotels. Another important element to this site was that it be ADA compliant so we built in additional web accessibility that was not fully available from the theme.
Here's a testimonial from Owner Tim Bostock:
"Beth and her team helped us to reinvent the Kamuela Inn website, with a clean, colorful and welcoming look. We're delighted with the results and we continue to grow as a destination boutique hotel!"